Jeremy Calvert is about to debut his new merchandise line, CalvertWehr, and the Teen Mom 2 star says he's excited for fans to see what he's been working on over the last six months. The Ashley broke the news back in July that Jeremy was partnering with his fiancé, Brooke Wehr, on the line.
Jeremy chatted with The Ashley about his decision to start the CalvertWehr line. (See what they did there with the name?)
"I wanted to start some type of project to give back to people," he told The Ashley. "We started the clothing line and some of the proceeds will be going to [various] foundations."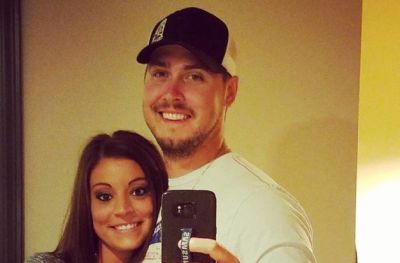 A rep for CalvertWehr tells The Ashley that the site will showcase everything from clothing to hats to housewares, and that each week a specific item will be featured.
"We will donate a portion from all sales of that item to relief organizations, children's hospitals, food banks etc.," the rep told The Ashley. "Purpose over profits is going to be our motto."
While there is no lack of 'Teen Mom' related products floating around, the rep tells The Ashley that the CalvertWehr line is not just a money-grab attempt by Jeremy.
"We are not looking to compete with anyone, Jeremy doesn't need the money," the rep said. "We just wanted to take advantage of the platform from MTV and utilize that in part to make a small difference to give back now during the holidays. With the support of followers, [we can] continue to do that."
Jeremy says that he has gotten some negative reactions to the line from a few of the show's fans, but he hasn't let it discourage him.
"People can say what they want; I truly don't care a bit," he told The Ashley. "Random people aren't involved in my life, so why would I care what their opinions are? People act as if I make a killing off of 'Teen Mom 2.' Sorry to burst their bubble; I don't make a ton of money off of it."
Jeremy was adamant that Brooke, whom he proposed to in September, be involved in the project.
"I figured Brooke is my partner in my life with everything I do so I wanted her to be a part of this also," he said.
The CalvertWehr line will include clothing for men, women and children, the rep said, with new items being added each week.
You can check out the CalvertWehr site here! It is live, and visitors can subscribe to receive an update when products have been added.
(Photos: CalvertWehr, Facebook)