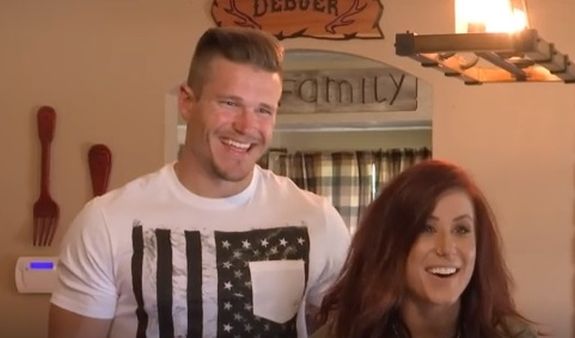 There will be a whole lot of Barbara Evans coming our way in 2017! She (and those other girls from Teen Mom 2) will be starring in the upcoming season of the show, which MTV has just announced will premiere on January 2!
In addition to announcing the Season 7B premiere date (which, by the way, the cast found out when viewers did, as per usual), MTV also released the explosive first trailer for the new season! This may be the most intense season yet– what with all the baby-making, a divorce and custody fights, to name just a few of the things touched on in the trailer.
One huge change coming in Season 7B is that the girls will finally acknowledge that they are on a reality show. For the first time ever on 'Teen Mom 2,' the fourth wall will be broken (as it was for Teen Mom OG) and the girls will be shown interacting with producers, and discussing filming, on-camera!
Since some of The Ashley's readers outside the United States are unable to watch the trailer, The Ashley will do her best to describe some of the things shown in it.
Kail tells Javi that they are getting divorced, telling him, "It's not like we were this happy couple." In the next clip, Javi tells Kail that she "opened her legs" to another guy and didn't think about her family.
Leah tells her friend that she is happy that her girls are living a better life than she did. Later, Leah discusses Ali's health issues and we see the little girl in her wheelchair.
Jenelle is once again battling with Barbara over custody of Jace, so Jenelle vows to never film with Barbara "ever again in my f**king life." Barb argues that if she wins the custody battle, she'll see to it that Jenelle has limited visitation with Jace. In the next clip, the producers are seen asking Jenelle and David if Jenelle is pregnant. Of course, Jenelle denies that she is pregnant, but Barb later finds out that her daughter is lying, when a police report surfaces that confirms Jenelle is pregnant. (Perhaps The Ashley will get a shout-out on the show for exposing Jenelle's pregnancy before anyone else?!)
Chelsea and Cole announce to one of the show's producers that they are expecting a baby. The adorably excited couple proudly shows off a bunch of positive pregnancy tests as the producers shrieks. However, another clips shows Aubree celebrating her birthday, and Chelsea says that Aubree's dad, Adam, didn't even call her on her special day.
The new season of 'Teen Mom 2' premieres January 2 on MTV. Watch the first trailer below!
(Photo: MTV)