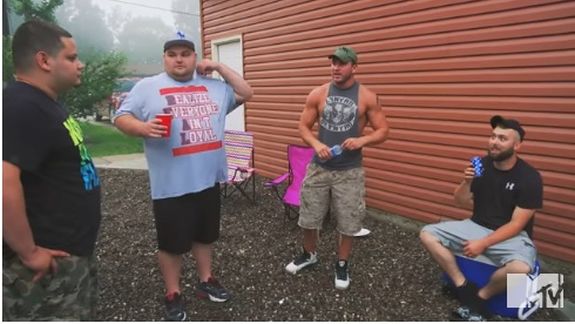 What do you get when you take a few of the guys from Teen Mom, throw in some red Solo cups, a camera crew and a whole bunch of camouflaged clothing? Well…we're about to find out!
MTV has announced that four of the dads from the 'Teen Mom' franchise will star in the upcoming "Weekend at Corey's" special, airing Monday, December 12. The special will follow Teen Mom 2's Jo Rivera and Nathan Griffith (and his shredded sleeve muscle tank), as well as Teen Mom OG star Gary Shirley, as they head to Corey Simms' West Virginia mountain home for a weekend of male bonding and outdoor activities.
Back in June, The Ashley told you that the guys were in West Virginia filming something that would be aired sometime this winter. The episode was filmed just days before a devastating flood ravaged the area of West Virginia in which Corey and other cast members live. (Corey's home was not damaged, though.)
In a sneak peek clip of the special, Corey even tells his guests that his house is currently running on a generator and that he has no water, due to the flooding.
"I took a bath in the pool earlier," Corey tells the guys.
It appears that some of the franchise's fellas didn't want to make the trip. In the clip, Gary says that 'Teen Mom OG' stars Ryan Edwards and Tyler Baltierra, as well as 'Teen Mom 2' star Adam Lind probably wouldn't make it.
Corey says he came up with the idea to invite the guys to his home to film the special because he was tired of filming the regular 'Teen Mom' stuff. He went to the show's executive producer, Morgan J. Freeman, with the idea.
"I called Morgan and I was like, 'Yeah, we need to do something more outdoorsy …I'm tired of doing 'Teen Mom,'" Corey says. "He called and said 'OK I got approved for a special. We're gonna have some of the guys come in."
Jo seems particularly stoked to be in West Virginia.
"I haven't been away from the kids for a long time," he says. "I wanna catch some fish, bro! I came here to go fishing!"
Although Jo's dreams of fishing in the mountains are dashed by the flooding, Nathan suggests they all go snipe hunting instead. Corey offers to bust out his snipe callers to help the group find the birds.
Watch the sneak peek clip below. The 'Teen Mom' "Weekend at Corey's" special airs Monday, December 12 on MTV.
(Photo: MTV)