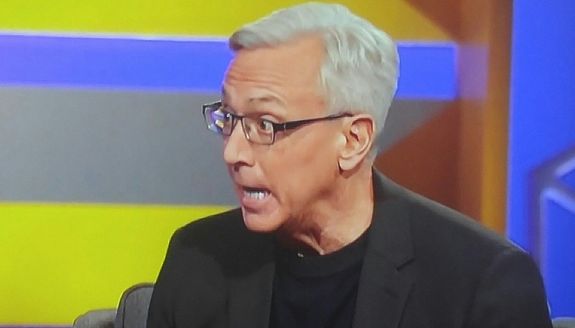 Over the years, The Ashley has recapped episodes of Teen Mom and proclaimed them to be "The Best Episode Ever." While all of those episode were surely worthy examples of premium, trash-tastic TV, they pale in comparison to the episode The Ashley is about to recap. She can confirm, without a doubt, that the Teen Mom OG Season 6 Reunion episode is the BEST EPISODE EVER.
I mean–Jesus God (Leah), not only does it include on-stage fight footage that mirrors the legendary fights of The Jerry Springer Show circa 1999, but also has someone wearing a horrible Halloween wig non-ironically, and, of course, and a "Donna Martin Graduates!" style cast walk-out. This is what dreams are made of, people! (Well…at least The Ashley's dreams…which are admittedly sad.)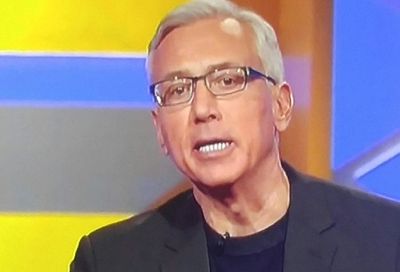 The Ashley had intended to recap the episodes that aired before this, since she is very behind but…she's basically foaming at the mouth to recap this particular episode, so this episode skips to the front of the line…
Let's get started!
Amber and Catelynn had their chance to chat with the Good Docta on the first part of the Reunion episode, so this part is supposed to focus on Farrah and Maci. As we all know, though, Amber ends up making a, um, "guest appearance" on this episode too.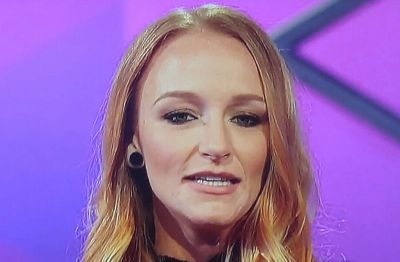 We start out with Maci and Taylor sitting on the couch with Dr. Drew. After we watch footage of Maci "discovering" that her growing beer gut was actually a five-months-along "Oopsie Baby," the kid shoots from Maci's still-unmarried loins, they give the kid a bad name, and then get married. You know how it goes… The recapping of the season is boring, although it is nice to get to revisit Ryan's bulging bug eyes a few more times.
Maci confirms that, despite all the changes that have happened in her life this year, she's happier than ever. She confirms that she is #Blessed.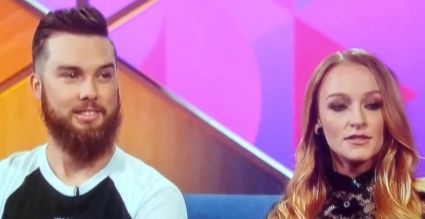 Dr. Drew brings up the fact that Maci keeps having accidental pregnancies, despite being on a show that's supposedly about unplanned pregnancy prevention. Wouldn't ya know it, guys? Maci and Taylor did everything right– they used birth control and everything– but the Pregnancy Gods decided that they needed another youngin' anyway. Taylor says that they are part of the 1 percent of couples who get pregnant while using birth control!
It's remarkable!
Maci confirms that she will not be having any more miracle babies but…we'll see…
The next topic is Ryan. She confirms that he's still a piece of crap dad, but with small pockets of decent parenting in between. (Of course, most of the time in those "pockets" Ryan is napping, but hey…I guess that counts?)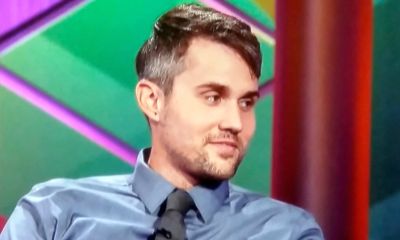 They then pluck Ryan out of the sleeping bag he's set up in the green room so that he can go onstage and talk to the Doc. He brings his mom, Jen, along with him. Jen has obviously dressed Ryan for the occasion because he's actually looking decent for a change. His hair is combed, his pupils are (almost) a normal size, and he's all dressed up like he's ready to manage an Outback Steakhouse.
I can see Maci's heart a-fluttering from here!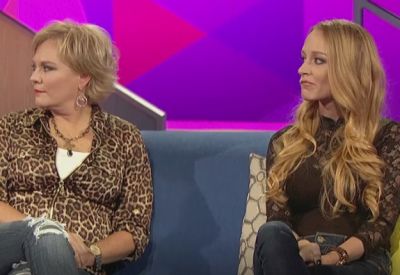 Of course, Dr. Drew goes straight for the gossip jugular, getting right into Ryan's big falling out with his dad, Larry. He's trying to get someone to reveal what caused the fight, but Ryan & Co. don't want to dish. Jen says Larry was mad that Ryan didn't follow through with a promise to clean out the garage.
UM…Sure guys. I believe that as much as I believe Maci and Taylor's "one percent" miracle pregnancy explanation. A man does not say that he would "not piss on Ryan even if he was on fire" because someone forgot to take a broom and dustpan to the garage. Come.On.
Dr. Drew's obviously not buying it, but, well, they're probably not paying him enough to press the issue farther so he moves on to the topic of Ryan moving out.
Jen says she's happier now that Ryan is living on his own…in her other house. Ryan is actually somewhat coherent and personable throughout the conversation. (Also, his eyes are open and he's keeping all of his saliva in his mouth; that's something we haven't seen from him in at least a season!)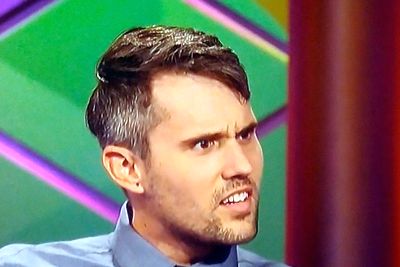 Dr. Drew just can't help himself. He asks Ryan why the hell he's in his mid-twenties and not working.
Whoa! Did someone just say the "W" word on 'Teen Mom?' Is that even allowed?! I'm surprised the network didn't make them censor the word out.
Ryan just stares at Dr. Drew. He then asks the Doc, "Why?"
This has got to kill Dr. Drew. Even though he's basically an overexposed reality star now, he is still a medical doctor. When he was Ryan's age, he was probably almost always elbow-deep in blood, guts and germs while doing his medical residency. Seeing that nearly all of these "kids" are unemployed must make Dr. Drew feel a little sick (and maybe even a little guilty, knowing that in some small way he has contributed to it?)
Ryan calls out Maci, asking her, "Hey, where do you work?" Maci reminds him that, duh, she owns a company. Does he think those leather-pocketed tees ship themselves?! GEEZ!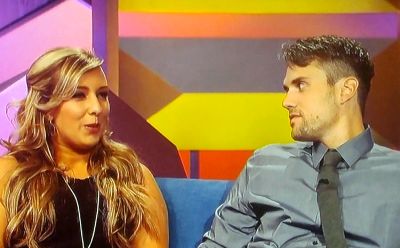 Next, they drag out Ryan's new live-in galpal, Mackenzie. Dr. Drew wastes no time in asking her what caused the fight between Ryan and Larry. (Dr. Drew, I like your persistence!) Unfortunately, Mackenzie ain't spillin' the tea, and Dr. Drew honestly looks bummed out.
Drew won't drop the topic of the fight, and soon, he's reduced Ryan to tears. This may be the first time we've ever seen Ryan cry. (It's nice to see him use his eyes for something other than creeping everyone the eff out.) Drew seems genuinely happy to see Ryan show emotion.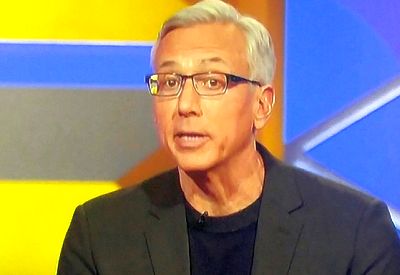 Drew realizes he can stall no longer. He has stretched Maci's segment out as long as he can, and he must now face the 'Teen Mom' Tornado herself, Farrah.
Farrah drags her ample backdoor out on the stage, and Drew is quick to remind her that unlike all of the other girls on the show, she is all alone. Farrah watches the clips of herself from the season, and seems totally unfazed by her horrific behavior toward Simon, her mother Debra, her father Michael, her employees and even her own daughter. She just sits there watching herself, probably just thinking about how great she looked this whole season.
Drew brings up Farrah's fight with Debra (Round 395), and Farrah explains that the fight was caused by Deb, who refuses to admit that she gets engaged more often than Jenelle Evans. She also says that she's tired of her mom calling her a liar.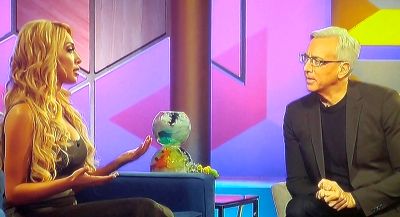 Next, Dr. Drew dares to bring up the fury that Farrah has for him. (As you'll remember Farrah flipped out when Dr. Drew joked during a radio show interview a few months ago that sometimes he wants to "strangle" her.) Farrah is still angry with the Doc about those comments, and says that none of her other doctors say things like that.
Drew quickly reminds Farrah that he is NOT actually her doctor. In fact, he's no one's doctor at this point. Unless Farrah's butt literally explodes and it becomes an emergency situation, Drew is not medically obligated to act as a doctor to Farrah.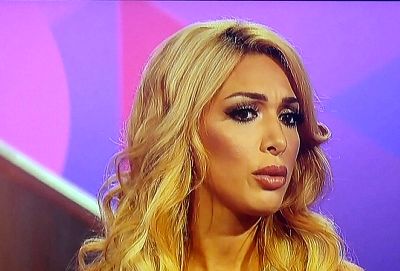 "I'm hosting a talk show, I'm not your doctor," Drew tells her.
Basically, what he's saying is the fact that he has a medical degree is irrelevant here. They could literally put a sport coat on Producer Heather's unused hairbrush and sit it in Drew's chair and it would serve the same purpose that Drew does on this show.
Farrah is not amused by the zinger, but she does accept Drew's apology. She then tells us that she's keeping Deb and Michael at a distance until they can all figure out how to be decent human beings toward one another. Farrah is actually being semi-decent. She's saying things that make sense, and even (sort of) taking some responsibility for her strained relationship with her parents.
Ryan's awake, Farrah's rational…is this Freaky Friday or something!?! Next you're gonna tell me Gary's over in the corner doing sit-ups!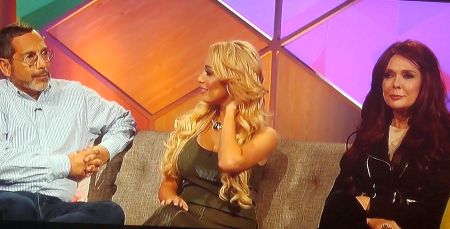 It's time to bring out Farrah's parents. Michael walks out on stage with a red-haired woman. Who is this mysterious flame-haired vixen, you ask? Why, it's Debra in a red wig, of course!
No, seriously.
Debra is sitting there, proudly sporting a red wig that looks like it came straight out of the Party City After-Halloween Clearance Sale. She legit looks like she scalped the Little Mermaid!
The cheap wig is shining bright under the stage lights, as is Deb's beaming face. Michael looks totally embarrassed for her, and for himself, because he used to knock boots with this woman.
Somehow Drew manages to keep a straight face and initially doesn't mention Debra's ridiculous mop. Finally, he can hold it in no longer, and has to ask Deb what the hell died on her damn head.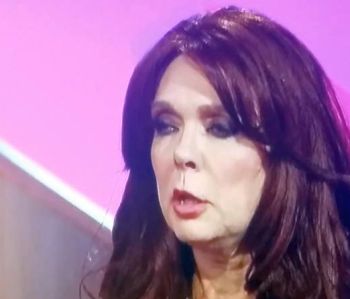 Debra smiles from underneath her Little Mermaid wig. (To be fair, though, the quality of the wig is so bad, it's more like a cheap Little Mermaid knock-off costume from China than the real thing. It no doubt came out of a package marked "Tiny Underwater Girl Costume" or something.)
Although the sight of Deb in that thing is both horrifying and hilarious, things get downright creepy when Deb explains why she's wearing the wig.
Apparently, Debra's fiance, Colonel Sanders MD, once told Deb that he really, really liked Farrah's dark red hair. He liked it so much, actually, that he asked Deb to consider changing her hair color so that it looked more like her daughter's. (I'll give you a moment to let that creepiness digest.)
Naturally, Debra would never pass up the chance to look like her Hip & Happenin' daughter, so she ran over to a wig shop and picked up this catastrophe and plopped it on her head. As she's explaining this, Farrah is just giving Dr. Drew a look that says, "And you're still wondering why the hell I need weekly therapy?!"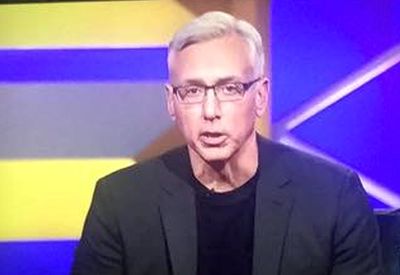 The BEST part of the episode (until that point, anyway…stay tuned…) is when a jovial Debra asks the audience what they think of her wig. She's clearly expecting one of those "Ricki Lake Show"-esque moments where the entire studio audience stands up and applauds, while the camera pans to one woman in particularly who is both clapping and nodding passionately. (There was always one!)
Unfortunately for Deb, not one of the people in the audience even grunts in approval. It's total radio silence from all of the horrified audience members. Deb is forced to give herself the thumbs-up sign and utter a quiet, self-hating "Awesome!" It's Class A Awkwardness…and I freaking love it!
God Bless America!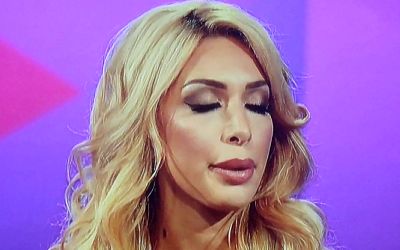 They fight about a few more things, including Deb's man, his fried chicken empire, and therapy, and soon they corral Michael, Deb and Deb's strands 'o' shame off the stage. They bring out Simon which means….it's almost time for the Fight of the Century.
Let's get ready to rummmmmble!
Simon comes out and plops down on the couch next to Farrah. They tell the Doc that they are currently "friends" and then Simon regales us with "the real story" behind Farrah buying herself an engagement ring. Simon says that Farrah and Sophia called him at 3 a.m. and demanded that he buy "them" (um?) a $64,000 ring. Simon says he negotiated the price down to $30,000 for Farrah, who bought the ring for herself.
Somehow in The Brain of Farrah, that translated to Simon wanting to propose. Simon says he had no intention of proposing.
"Who even knows what happened?" Farrah says.
Um…Simon. He just told you.
Simon confirms that when he does actually want to propose to a girl, she'll know it.
Finally, after listening to almost an HOUR of people talking about crap we don't really care about, Dr. Drew brings up that special subject we've all been waiting for– Simon's Snapchats! (In case you didn't know, Simon would do weekly 'recaps' of the episodes on Snapchat, making fun of Farrah and her co-stars.)
Simon says that, while the Snapchats were all in good fun, the cast members provide him with plenty of ammo to make fun of them. (The Ashley hears that!)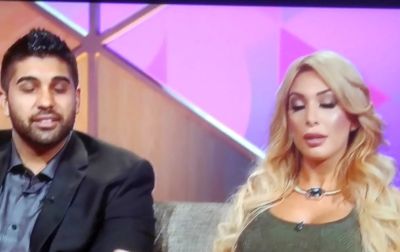 Dr. Drew calls Simon a troll, and Farrah sticks up for her man friend, pointing out that Simon should be commended for making fun of people outright, rather than behind their backs like "an Amber or a Maci or a Catelynn."
The Ashley knows what's coming and she's more excited than Debra during a Forever 21 sale!
"I heard you called somebody a pedophile?" Dr. Drew says to Simon.
I can't breathe…I'm more excited than Jesse Spano on caffeine pills!
Simon begins to say that the comment was all "in fun," but Farrah interrupts and apologizes…in her own way.
"I'm sorry that Matt probably looks like it!" she says.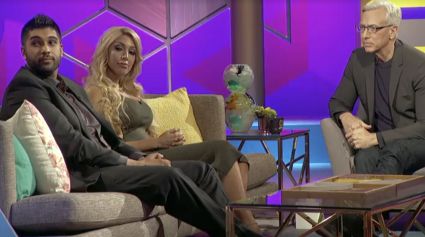 Farrah keeps flapping her over-inflated lips and all of a sudden there's a rumble at stage left. Simon notices what's coming and looks positively gleeful.
"F**k that bitch!" we hear someone bellow from backstage.
All of a sudden, we see Amber charging to the stage, finger pointed toward Farrah and ready to show this biotch what happens to people with loose lips in prison.
"Uh-oh," Dr. Drew says, obviously wanting to get out of the way before Amber's fist start a'flyin'!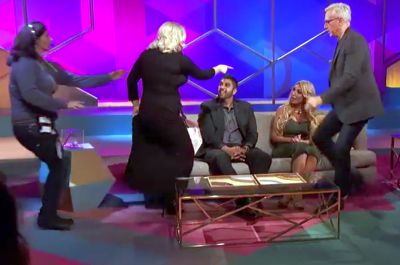 Soon Amber is clomping toward Farrah screaming at the Plastic One to "shut her f**king mouth!"
Drew moves out of the way (hey– he doesn't want to get blood on that sportcoat!), while Simon looks giddy. A producer scurries from the sideline to hold Amber back but she is unstoppable. Simon goes to grab Amber and she bitch-slaps his hand away. Meanwhile, Farrah's doing her best to move her face into a "surprised look."
"I'm gonna stand up for my f**king man!" Amber screams.
At this point there's only one thing for us to say: "JERRY! JERRY! JERRY!"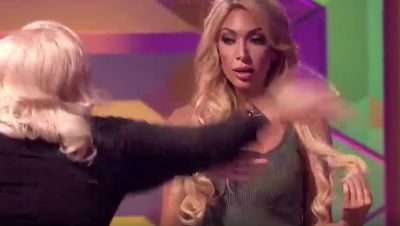 Here's to hoping someone starts throwing chairs…or a shoe…or Deb's Halloween wig!
The producer and Drew are no longer able to hold Amber back. The security guards finally realize they're going to have to protect Farrah or Amber's gonna turn her into a pile of bad extensions and melted plastic. They hold Ambie back, as Michael and Producer Larry head to the stage. She manages to get in one good swat, but somehow ends up missing Farrah's mug.
Amber….you had one job, girl. You had one job.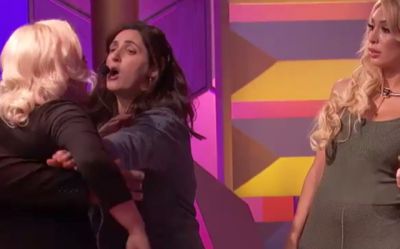 Farrah looks unfazed and, at one point, is twirling her hair. She seems to have no idea that there's an ex-con just inches from her face who is dead set on turning her into a tetherball. We can hear Michael yelling something at Amber, and I'm fairly certain he's not telling her that he likes her new hairdo.
Soon, Matt charges out and the stage is full of people trying to 1) calm Amber down and 2) make sure this is all getting caught on camera. Michael and Matt start to get into it, and Matt legit charges at Michael like an angry bull. His nostrils are flaring and he goes right at Michael. His face is all contorted with anger, and the producers are doing their best to hold Matt back.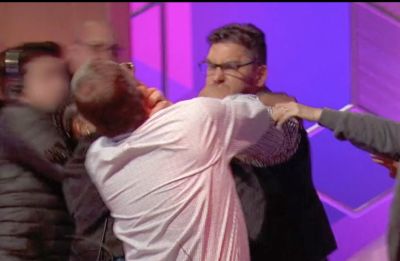 Matt gets in a good push and Michael goes flying to the floor. Meanwhile, Simon is standing at the far back of the stage, grinning like a kid on Christmas. That's exactly how The Ashley would have looked had she been able to witness this trash-tastrophe in person!
Soon, a security guard gets Matt into a headlock and he's just about foaming at the mouth to get another lunge in at Michael. Amber comes back on stage and tells Farrah to never speak of her again.
Farrah randomly starts counting (as you do).
"1—-2—-3!" she shouts for no apparent reason.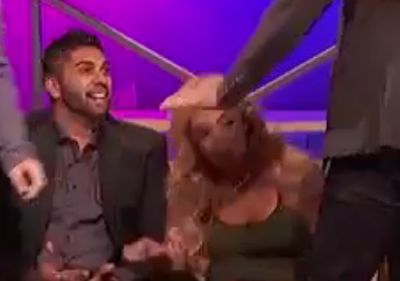 She then calls Amber and Matt criminals and Amber shoots a delightful comment back.
"That's right! I'm a motherf**king felon! But at least I say it to your face!" she yells.
Hey– in the words of the Great Keiffer Delp: "Bein' a felon ain't illegal!"
They escort Amber out as Farrah yells for someone to call the police on "the criminals cuz they need to go visit jail!"
Oh, it hurts so good….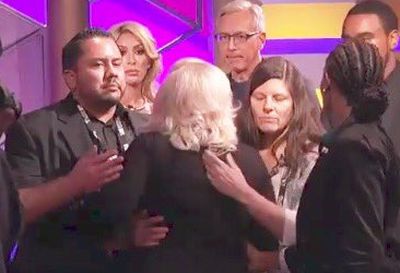 Matt is hauled off by two men while Maci leads Amber backstage.
"That's called a woman, bitch!" Amber screams from backstage. "That's called a real woman!"
"You're not!" Farrah yells back.
Well…to be fair…there is very little left on Farrah that is actually "real." She doesn't really have room to talk on that subject.
"Shut your crooked lips up!" Amber yells to Farrah.
They go to commercial break, and come back with Farrah and Simon alone on the stage with Dr. Drew. The Doc brings up the fact that Amber used to always stick up for Farrah, but Farrah seems to be oblivious to that.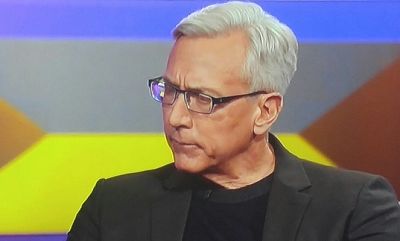 "They want to hit people, and behave like criminals," she says of Amber and Matt.
They wrap up the segment because…how the hell can you even top what we just witnessed?!
It's time to bring all of the gals back out for the final segment. However, Farrah refuses to come out on stage, leaving Maci, Catelynn and Amber to do the segment without her. Maci ask the Doc why Farrah isn't doing the segment and the Doc stutters. Maci launches into a tirade and when Dr. Drew tries to interupt she hits him with the "Talk to the Hand!"
She says that, basically, she and the others are tired of everyone catering to Farrah, and them having to come in early to film because Farrah has had bitchfits for the past seven years.
"I was on Farrah time," she says. "Farrah gets to leave whenever she wants to."
They thank Dr. Drew and the audience, and then say that they're not going to be on Farrah's time anymore.
"If she gets to leave, we're going to leave," Maci says, as she, Catelynn and Amber stand up and walk off the stage.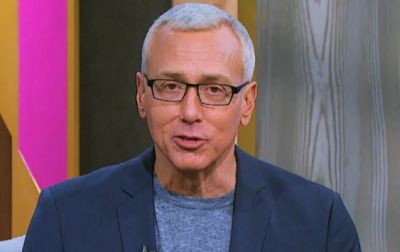 Drew is sitting there stunned, and you can just tell that he'd rather go back to being elbow deep in blood and guts in the ER than deal with these 20-something drama queens.
"This is reality, this really happened tonight," he tells us.
He somehow manages to throw a pregnancy prevention pitch in before the show ends. The girls and their guys come out to wave goodbye and the show ends.
And THAT, kids, is how you do a ding-dang 'Teen Mom' Reunion show!
To read The Ashley's other 'Teen Mom' recaps, click here!
(Photos: MTV)