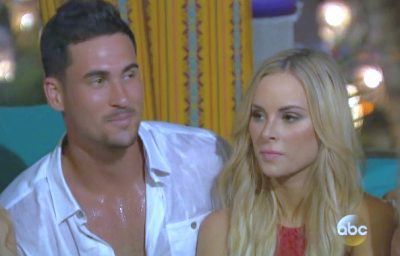 Note: File this under 'report' until further notice.
It looks like another Bachelor franchise engagement has bit the dust!
According to 'Bachelor' guru Reality Steve, Bachelor in Paradise couple Amanda Stanton and Josh Murray have ended their engagement. The couple, who basically spent their whole time in 'Paradise' attached at the mouth, is apparently doing their best to keep their split under wraps, even appearing at recent events together.
"But they are broken up," Reality Steve reported on Tuesday. "They just haven't gone public with it yet because, my guess is, they're trying to figure out the best time to do it."
Steve reports that it was Amanda who ended the engagement, and that Josh has moved out of the apartment that he and Amanda shared with her two daughters from a previous marriage.
"[Josh] is staying at a hotel," Steve stated. "At this time, they're just figuring out the next step."
'Bachelor in Paradise' fans, as well as Amanda's friends from the show, all expressed concern over her relationship with Josh. Some were alarmed by Josh's behavior while shooting the season, while others were concerned after reading a book written by Andi Dorfman, Josh's former fiance, who painted Josh in a very unfavorable light. The breakup should come as no surprise to these people, Steve says.
"From the sound of it, this isn't something that's a one-time event that caused the breakup," he wrote. "It's essentially everything you've been hearing from the beginning. Just a long time coming and for whatever reason finally came to a head."
Tabloids have been reporting an Amanda and Josh breakup for months, but this time, it's the real thing, Steve wrote.
"There's been stories about them for the last six months that I never reported on once," he wrote. "Once seasons are over, I rarely talk about the couples unless there's a breakup or a major story because I move on to the next season. But based on the latest information I've gotten, this looks to be the final straw. Not sure when they're going to publicly make it official, I'm just telling you to prepare yourselves because it's coming."
Amanda and Josh have not confirmed or denied Steve's report (yet), but in a video posted to Amanda's Instagram account on Monday night, things did not seem happy between the couple. (She has since deleted the post.)
Reality Steve is known for spoiling every season of 'The Bachelor,' 'The Bachelorette' and 'Bachelor in Paradise.' He has a proven track record of being correct about most things related to the shows.
Still, as of Tuesday night, Amanda and Josh still had each other featured prominently on their social media accounts.
(Photo: ABC)