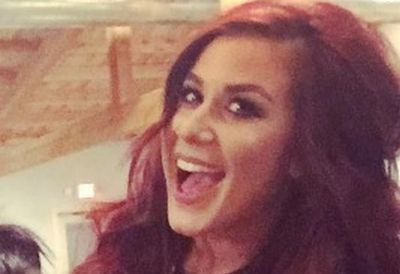 Chelsea Houska will welcome her second child in a few months, and it seems that her friends and family members are just as excited to meet her little one as she is! This weekend, the Houska Family & Co. threw Chelsea and her husband, Cole DeBoer, a fun baby shower to celebrate the impending arrival of their little boy, who is due in February.
However, this was no ordinary baby shower. The couple's friends and family hosted a "Diaper Keg" shower for them, in which all of the guests bring a box of diapers, which they exchange at the shower for a cup for the beer keg.
Judging from the photos that Chelsea and others posted on their social media accounts, it appears that the co-ed shower was woodsy-themed, and included a photo booth and fun games. It was held at the Country Apple Orchard near Chelsea's home in Sioux City, South Dakota.
There were plenty of 'Teen Mom 2' regulars in attendance, including Chelsea's parents Randy and Mary, as well as her daughter Aubree (who wore an adorable "Big Sister" badge), and Chelsea's friend Chelsey Grace.
It looks like Chelsea and Cole's "shower" was filmed for an upcoming episode of 'Teen Mom 2,' as a camerawoman appears in one of the photos that Chelsea posted to her Snapchat.
According to Chelsea's posts, she is currently about 31 weeks pregnant. She announced her pregnancy back in July.
Check out the gallery of cute shower pics below! (Click on the image to enlarge it!)
(Photos: Instagram, Snapchat)