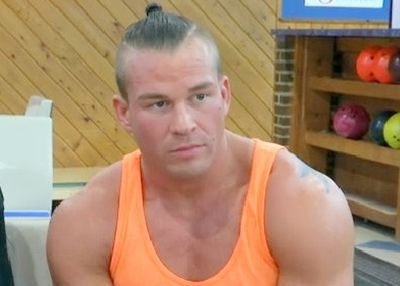 UPDATE! (December 13): Nathan has been arrested. Click here for all the arrest details.
Another day, another Teen Mom 2 cast member in trouble with the law…
Nathan Griffith, who is one of Jenelle Evans' baby-daddies, is currently wanted by police in Myrtle Beach, South Carolina, on charges of domestic violence after an incident early Monday morning. Jenelle was not involved in the incident; it appears that another one of Nathan's ex-girlfriends, who has appeared on 'Teen Mom 2' with him, was the alleged victim. (The Ashley has elected not to publicly name her.) 
A warrant was issued after the ex-girlfriend reported that Nathan had allegedly choked her after a night of drinking at a bar together. According to the police report, the ex-girlfriend claimed that, after getting into a fight with Nathan at the bar, he ended up at her house around 2:30 a.m. on Sunday and jumped on top of her and began to choke her. The roommate of the alleged victim told police that she heard her friend screaming and ran into her friend's room, only to see Nathan on top of the girl. After screaming at him to leave, Nathan left the apartment before police arrived.
The police report charges Nathan with assault/aggravated assault, which is a felony, and claims that the weapon used was "strangulation/hanging."
The police are on the hunt for Nate, and have asked anyone who spots him (and his torn-up muscle tee) to call the Myrtle Beach Police Department.
Over the past few days, it has been reported that Jenelle is keeping Kaiser (her son with Nathan), away from his dad, despite a court order that requires her to allow Nathan to see their son. Jenelle has claimed that she does not feel it is safe for Kaiser to be with Nathan, and after news of the warrant broke, she tweeted "point proven."
"Exactly why I said I need to keep Kaiser safe," she tweeted, along with a link to a story about the incident.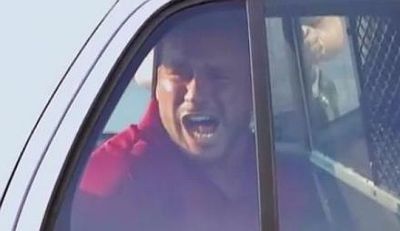 This is not the first time Nathan has been in trouble with the law. In March of 2015, he was arrested for domestic violence against Jenelle when he allegedly tried to rip the engagement ring he had given Jenelle off of her finger. (The incident played out on an episode of 'Teen Mom 2.' Who could forget a sobbing Nate screaming "Jenneeeeeellle!" in the back of a police car?!) Jenelle later dropped those charges against Nathan.
Nathan also has arrests for DUI, disorderly conduct, larceny and resisting arrest, among other charges, on his record.
Nathan will appear in the upcoming 'Teen Mom' Dads special "A Weekend at Corey's," which is scheduled to air tonight. (MTV is probably trying to figure out how to digitally erase Nathan and his muscle tee from the footage as we speak!)
Nathan isn't the only 'Teen Mom' franchise dad who is currently wanted by police. As The Ashley recently told you, Teen Mom 3 dad Joey Maes also has a warrant out for his arrest.
(Photos: Twitter, MTV)