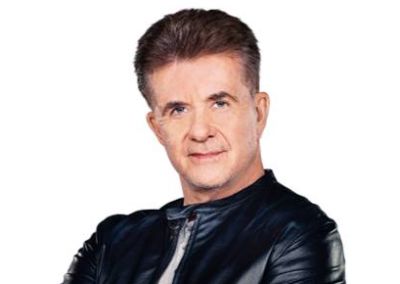 Iconic television actor Alan Thicke, who starred on the reality show Unusually Thicke, died Tuesday at the age of 69.
TMZ, who broke the story, reported that Alan was playing hockey at a Burbank, California, ice rink with his son Carter when he suffered a heart attack.
According to the ice rink vice president Darin Mathewson, Alan was vomiting and speaking to his son when paramedics arrived at the ice rink. He even asked his son to take a picture of him being loaded into the ambulance, the ice rink manager told Entertainment Tonight.
"On his way out he asked his son to take a picture," Darin told the site. "He goes, 'Ah, take a shot kiddo' and he did and off they went. He had Carter take a picture of him, and said, 'Make sure you get the rink in the background' as they were taking him out of here. When he went by us, he gave us the thumbs up, like, 'I'm doing good guys, I'm good.'"
Alan was later pronounced dead at the hospital.
Best known for starring on the 1980s/1990s sitcom Growing Pains, Alan took on reality TV in 2014 when he starred on 'Unusually Thicke' a reality show that mocked the life of him and his famous family. The Pop network show was billed a "mockumentary" reality show, as it straddled the line between a sitcom and reality show. 'Unusually Thicke' also starred Carter,  Alan's wife Tanya, and his sons Brennan and Robin.
The second season of the show is currently airing on Pop. It had been revamped for the second season to focus on the Thicke family's home renovation.
"We are deeply saddened to hear of Alan Thicke's passing," Pop's President Brad Schwartz said in a statement on Tuesday. "He was a part of our Pop family and was a tremendous talent. He was also for all who knew him, an amazing father and a true gentleman. We had the privilege to work with America's Favorite Dad and his loss is one that is deeply felt."
(Photo: Pop)