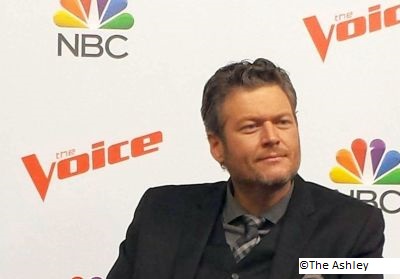 With the eleventh season of The Voice coming to an end on Tuesday night, Coach Blake Shelton is turning his focus to Season 12, which will bring Blake's girlfriend, Gwen Stefani, back as a coach. For months, rumors have been circulating the Internet that Blake threatened to leave 'The Voice' if Gwen was not brought back as a coach.
During Tuesday night's Finale press conference, Blake made it clear to The Ashley and other journalists that the rumor is simply not true. He confirmed that he had no part in making the decision to bring Gwen back.
"I'd like to sit here and tell you that I'm a powerful guy, but I had nothing to do with her coming back as a coach," Blake said. "That has to do with people way above me."
That's not to say that Blake isn't thrilled that he'll have his girlfriend back on set with him next season.
"Obviously, we were both excited and high-fiving and partying about it when we got the news, but that's because Gwen is special," he said. "And she deserves this."
This will be Gwen's third season coaching 'The Voice.' She previously filled one of the big red chairs during Seasons 7 and 9. During the press conference, Blake talked about why Gwen deserves to be a coach.
"You're damn right I want Gwen to come back, you know. I mean, for obvious reasons. But, you know, as far as Gwen as a coach, I think that's what I need to bring the most attention to," Blake said. "There's never been a coach that represents the style of music that Gwen does. You know, she has a background in ska music. We all know that. And then she was able to transition from that into pop music. I guarantee you, nobody in this room can really compare her to anybody else. And that's what's important about her as an artist to the music industry, and that's what's really important about her as a coach on 'The Voice.'"
'The Voice' Season 12 premieres February 27 on NBC.
The Ashley is in love with the new Season 12 promo video! Check it out below: