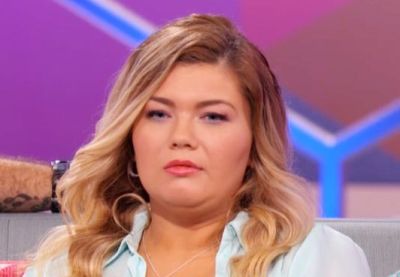 It looks like there will be one less "OG" on Teen Mom next season…
Last night, Teen Mom OG star Amber Portwood announced that she is leaving the show, due to the "disrespect" she's received since the explosive Season 6 Reunion brawl with Farrah Abraham and Simon Saran. Using her social media accounts, Amber explained to fans that she feels unsafe after the 'Jerry Springer Show'-esque onstage fight and its aftermath.
"Sad to say but I'm not going to be apart of #Teenmomog. The way I have been portrayed and treated is unfair. @MTV sending all my love," Amber tweeted. "If I was treated fairly it wouldn't be an issue but it's been nothing but disrespect since the reunion show. Which keeps continuing today."
Since the Reunion show aired, Farrah and Simon have continued to lash out in the media at Amber and their other 'Teen Mom' co-stars. Unhappy that the show's producers have taken no action against Farrah and Simon for what they've said, Amber is refusing to film any more for the show.
"Nothing has been dealt with or has made me feel any safer to even move on with people who have continuously hidden things from the network," she tweeted. "The day I'm shown some respect by the people I've worked with for 8 years is the day I'll be back. I've sacrificed a lot for this show."
Of course, Amber is not the first 'Teen Mom' gal to threaten to leave the franchise. In fact, many of the girls have "quit" the show at one point or another. Teen Mom 2 star Jenelle Evans has "quit" countless times for reasons ranging from MTV filming her ex to disputes with her co-stars. Maci Bookout quit 'Teen Mom OG' after finding out that Farrah was coming back, even though she was promised by producers that Farrah had gotten the ax for making a p0rn. (Maci was back on the show within an episode, though.)
Leah Messer was perhaps the most earnest in her attempt to leave the show. Back in 2014, she quit because she was unhappy about her affairs going public, and did not want her breakup with second husband Jeremy Calvert put on the show. She held out the longest and, from what The Ashley heard, got a sizable bump-up in pay before she agreed to come back to the show.
It's hard for any of the girls to quit 'Teen Mom,' due to the insanely big paychecks they receive each season. (It's difficult to say "no thanks" to over $300,000 a season, after all! From what The Ashley hears, the 'Teen Mom OG' girls make even more than the 'Teen Mom 2' girls do!)
Should Amber actually follow through with her threat to leave 'Teen Mom OG,' that will mean that we will not see Matt or Amber's baby daddy, Gary Shirley, on the show. The general rule is that if the main cast member (one of the eight girls) quits, the supporting cast members related to that girl will not be on the show.
Naturally, Simon poked fun at Amber's decision to leave the show.
"Does MTV provide unemployment benefits? If so I quit also!" he tweeted, before mockingly calling on the other girls to quit so that MTV would pay them more money to come back. "I think it's time for all of us teen moms to join forces and strike! We need higher pay! Shame on [executive producer Morgan J. Freeman]!"
Amber's fiance, Matt Baier, tweeted his support of Amber's decision to leave the show. (The Ashley is guessing that Matt is hoping that MTV does offer unemployment benefits….just sayin'…)
"So proud of @AmberLPortwood for fighting for and doing what she feels is right. Love you so much!" he tweeted.
The Ashley reached out to MTV to find out what the network plans to do about the situation. A rep tells The Ashley that MTV has "no comment" on the issue.
UPDATE: In an interview with E! News, Farrah provided her thoughts on Amber's departure.
"I'm out of the drama," Farrah said. "None of the girls will quit—they like the attention, need the money and their boyfriends need the money too much to quit. I get that Amber is embarrassed of her actions but she flip-flops all the time. She will be right back to filming. This is so dramatic. She could quit and not make it public if she was truly done."
Amber posted more tweets on Friday afternoon regarding her departure from the show.
"This is not about just money," Amber wrote. "This is about respect among other things. If we reach an agreement on how to settle than I'm happy. Until then this is what my decision is.I care for the people I work with but until we're on the same level then I have to do what's right for me."
Stay tuned– this is bound to get more juicy!
(Photo: MTV)