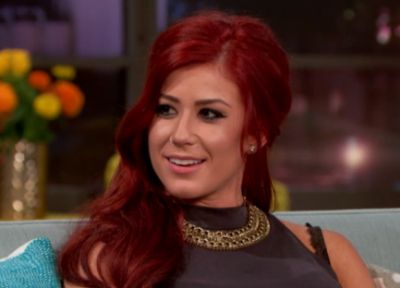 Chelsea Houska is almost ready to give birth to her second child– but don't expect to see her in the stirrups, squatting out the kid on an episode of Teen Mom 2!
In a new interview with WetPaint, Chelsea revealed that, while she does plan to share special pregnancy moments with 'Teen Mom 2' viewers, she will be keeping a lot of baby-related things private, out of respect for her husband, Cole DeBoer.
"This is Cole's firstborn baby and he didn't sign up for this show so I just want him to be able to have his moments to himself and not have to feel like he has to share them with everybody," Chelsea told the site. "So it's a hard line that I'm trying to balance right now."
Chelsea, who is expecting a baby boy in February, said that 'Teen Mom 2' cameras will "for sure not" be present when she gives birth, but she did let them have a peek at some of the other special pregnancy events.
"I didn't have [cameras] at doctor's appointments or anything…but they're at the baby shower for a while," she said.
Season 7B will be the first time that the fourth wall is broken on 'Teen Mom 2,' so producers will be shown in a similar way to how they are on Teen Mom OG.
"It's going to be a good season, it's pretty positive. This season with [my producer] Mandi, we both get along with her great so I think Cole is in it quite a bit more than he has been previously," Chelsea said. "So it's kinda nice that it's focusing on our relationship and not so much any negativity."
Chelsea said that both the Houska and DeBoer families are eagerly awaiting the baby, who is due on February 14.
"Everyone is so excited," she said. "It's been awhile since we've had a baby in the family. And it's Cole's parents' first grandbaby."
To watch the trailer for the upcoming season of 'Teen Mom 2,' click here!
To see photos from Chelsea's recent co-ed baby shower, click here!
(Photo: MTV)