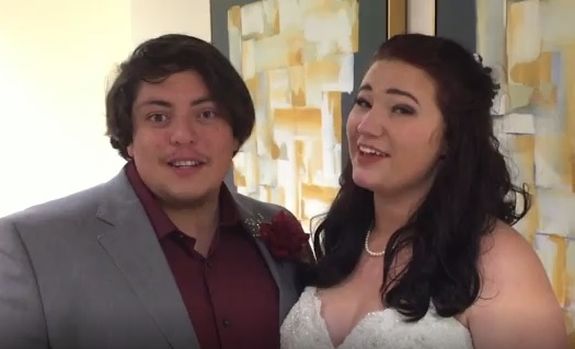 Sister Wives star Mykelti Brown married her fiance, Tony Padron this weekend in an outdoor ceremony in St. George, Utah. As The Ashley previously told you, the theme of the festivities was "Mexican vintage," but few details of the wedding and reception have been released.
In a new video clip posted by TLC, Mykelti and Tony discuss their wedding day while at their reception.
"When I said 'I do' it felt great," Tony says in the clip. "The commitment was finally made."
In another clip, Mykelti's parents, Christine and Kody Brown, revealed more details of the wedding, including the fact that Mykelti and Tony chose to have white Frisbees thrown at them when they came back down the aisle. (As you do.)
"When it was all over, we threw Frisbees over the top of the bride and groom," Kody says. "There were these little white disc floating through the air, which I thought was kind of a nice finishing touch."
"My favorite of the ceremony–it was really cold–and Tony took off his coat and gave it to Mykelti to wear," Christine said. "I think every mom wants to see her daughter protected like that."
Although Kody and Christine were initially concerned when Mykelti announced that she planned to marry Tony, they stated that they are now very happy for the couple.
"I'm really glad that Tony and Mykelti are married now," Kody says.
"I'm really excited for Mykelti," Christine adds. "It's awesome to have a daughter that's married."
We will get to see Mykelti's wedding and reception on an upcoming episode of 'Sister Wives,' but the Browns have not announced when that footage will air. The footage from the June wedding of Maddie Brown just aired on Sunday.
Watch Kody and Christine talk about Mykelti's wedding in the clip below:
(Photo: TLC)