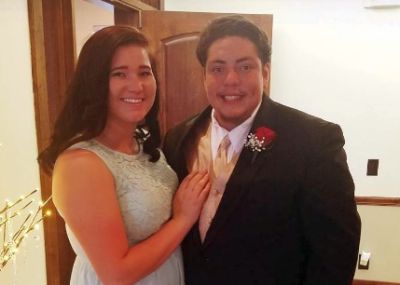 Yet another Sister Wives star has walked down the aisle!
Mykelti Brown, daughter of Kody and Christine Brown, married Tony Padron on Saturday in St. George, Utah. According to People, which had the exclusive on the wedding festivities, over 400 guests attended the vintage-Mexican-themed nuptials at the Bloomington Country Club.
As you'll remember, The Ashley was the first to tell you that Mykelti and Tony would be getting hitched on December 17.
The bride wore a white tulle and beaded A-line gown, while Tony was dressed in jeans, a burgundy dress shirt and a sport coat. According to the wedding photo posted on People's site, Tony let Mykelti wear his coat at the outdoor alter, due to the 40-something-degree weather. (Damn that Maddie— she got to have the summer wedding Mykelti wanted!)
Mykelti's sister, Aspyn Brown, served as the Maid of Honor, while some of Mykelti's other sisters were bridesmaids.
To achieve the "vintage Mexican" theme that Mykelti and Tony wanted for their wedding, handmade flowers in Talavera pots were placed throughout the venue, and they served a buffet of Mexican food to their guests. They had eight different flavors of cake at the reception.
The couple danced to Enrique Iglesias' "Bailando" for their first dance as husband and wife.
According to People, all 23 members of Mykelti's family attended– including Kody and Christine, as well as Kody's three other wives Janelle, Meri and Robyn, and her 18 siblings. There's no word yet on whether Christine and Kody had to mortgage their house to pay for the wedding, as Tony suggested in a recent episode.
Mykelti and Tony will be honeymooning in Seattle, and have said that they will continue to live in St. George. Mykelti has stated that she and Tony will not live polygamy like her parents do.
Wanna see their wedding registry? Of course you do! 
(Photo: Instagram)