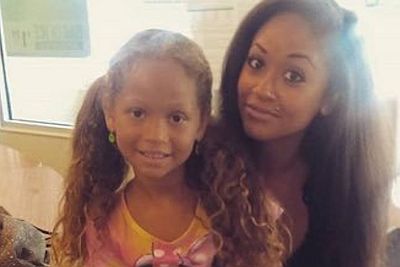 It's only been two days since 16 and Pregnant star Valerie Fairman died at the age of only 23, but her daughter Nevaeh is doing surprisingly well, according to the girl's grandmother.
Valerie's seven-year-old daughter, who has been living with Valerie's mother, Janice Fairman, for several years now, is seeing a counselor and getting support from her family and friends.
"She's doing very well," Janice told E! News. "She wanted to go to school because of the parties today so I let her go to school, and the counselor said she's doing very well. She talked to her twice. She's surrounded by support and friends."
The Ashley broke the story on Wednesday that Valerie had died of what appears to be an accidental drug overdose at her friend's house in Pennsylvania. Valerie's exact cause of death has not yet been declared, as the coroner is still conducting testing on her body.
"We're going to do a memorial, but we don't know when yet because the body hasn't even been released," Janice told E!
Before her death, Valerie had struggled with substance abuse issues and, as The Ashley had reported in the past, had been arrested on numerous occasions since appearing on '16 and Pregnant' in 2010. Her most-recent arrest was only a week before her death.
"She wants to get better," Valerie's ex, David Pryce, told The Ashley in February 2015.   "She was always a really good girl. But she's been on dope forever. It's turned her into a monster."
Janice told E! that she "never suspected" that Valerie was still using drugs, a habit Janice says that Val had been struggling with since her '16 and Pregnant' days.
To shield Nevaeh from the chaos, Valerie's adoptive parents had taken custody of the little girl years ago.
For more on Valerie's tragic life before her death, click here.
(Photo: Facebook)