Every year, little children make their Christmas wish lists for Santa Claus. While most kids ask for things like dolls or toy trucks, it's a little different if you are the daughter of Farrah Abraham.
The Teen Mom OG star told In Touch Weekly that her seven-year-old daughter, Sophia, asked for a variety of extravagant things for Christmas including, but not limited to, a Jacuzzi.
Of course, Farrah said she bought her daughter everything on her list– and more!
"On her wish list was a Jacuzzi, golf cart, her Apple computer that she wanted, and a miniature horse," Farrah said. "As a mom, I check off all of that and some stuff from her store."
Must everyone on 'Teen Mom' have a horse at some point or another!?
This is not the first time Farrah has been in the news for "spoiling" Sophia. When Sophia lost two teeth earlier in the year, Farrah gave her $600 from the "tooth fairy."
Don't worry, though! Farrah told the magazine that Christmas isn't all about mini-horse-buying and Jacuzzi-installing for her family.
"We love the tradition of always meeting Christmas Eve, and doing a big family lunch or dinner, so we always do that," she said. "Family plans-other than being with each other and spending quality time, that's what really matters. But this year is different; Sophia is seven, and every year with a child is different."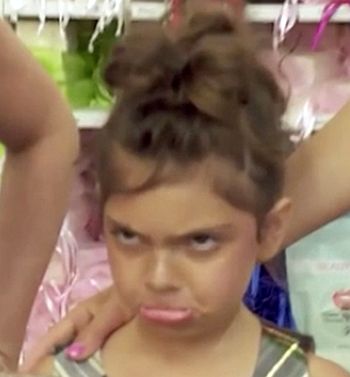 Yeah, apparently "seven" is the year of the Jacuzzi.
Farrah even shared a happy family Christmas memory with the magazine about her mother (and frequent insult target) Debra Danielsen. Apparently the generous gift-giving gene runs in Farrah's family…
"I remember this one Christmas, my mom got me all these Ty Beanie Babies. At the time, for me as a child growing up, that was a big deal, so yeah, my mom pretty much just bought them all," she said. "We had so many gifts that year, it was nuts. And I just really love and remember my mom decorated the whole house with nutcrackers and trees and garland-we'd go all out."
Farrah said she has decorated her humble abode for the holiday, but she didn't go as far as Deb.
"I have yet to totally immerse myself in the Christmas spirit like that," she said. "We just did the lights up everywhere in the yard and the house, and Sophia wanted to do her Christmas tree this year, so I let Sophia decorate."
Who has time to hang garland when you're searching the streets for a mini horse and a Jacuzzi?
(Photos: MTV)