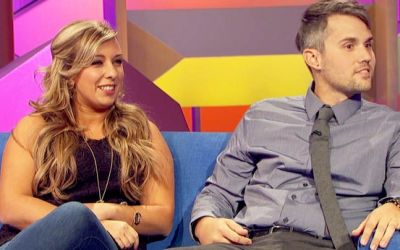 Teen Mom OG cast member Ryan Edwards announced earlier this month that he and his girlfriend, Mackenzie Standifer, are engaged, and now Ryan's bride-to-be has revealed how her oft-bug-eyed boytoy popped the question!
Fans began to suspect that Ryan had proposed at a Waffle House because he tagged the restaurant in the photo of the ring he used to announce the engagement. Luckily, though, the proposal didn't happen there. Mackenzie said Ryan planned a romantic night out for them for the proposal.
"I just thought we were going on a date, but he rented out a riverboat and nobody was there," she told MTV News. "It was just us on a riverboat, on the water, and it was beautiful. We finished dinner, and we were looking at each other. He asked me to stand up, and that's when he asked." (Kudos to Ryan for planning such a romantic proposal…and staying awake for it!)
Despite the fact that she's only been dating Ryan for seven months, Mackenzie seems to have already won over the whole McKinney/Bookout/Edwards clan. Mackenzie, the mother of a little boy named Hudson, apparently encouraged Ryan to move out of his parents' home and helped mend the rift that had developed between Ryan and his father, Larry Edwards. Mackenzie attended the wedding of Ryan's ex, Maci Bookout, and seems to get along great with Maci and Ryan's son Bentley.
Mackenzie, who just turned 21,  told MTV News that she and Ryan are already in wedding-planning mode.
"We already booked the church!" she said. "We're getting married in November 2017. It's where [Ryan's parents] Jen and Larry got married."
Ryan and Mackenzie are just one of the many 'Teen Mom' franchise couples who are currently engaged. Teen Mom 2's Jo Rivera and Vee Torres are engaged, as are Jeremy Calvert and Brooke Wehr. Adam Lind also proposed this year to his girlfriend, Stasia Huber, but it's unknown if they are still planning on tying the knot. Ryan's 'Teen Mom OG' co-stars, Amber Portwood and Debra Danielsen, are both also engaged, so there will be plenty of wedding bells ringing in 2017 for the casts of 'Teen Mom!'
To read about all of the reality TV star weddings of 2016, click here!
(Photo: MTV)