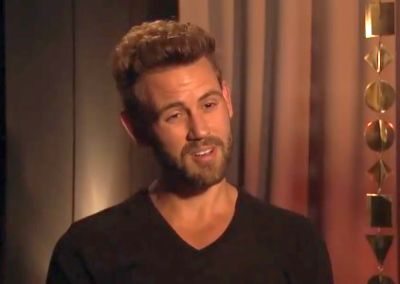 We are just days away from a brand-new season of The Bachelor! Even though we will have to put up with three-time franchise loser Nick Viall as the leading man this season, we can assume that–judging by the just-released new season promo– there will be plenty of the balcony crying and yacht-jumping we've come to expect from the show.
In the new promo for the season, which starts on January 2, we see Nick doing all of the things he's done in previous seasons– crying, getting down and dirty with a girl on a yacht and, of course, thinking about proposing.
(You may remember that he attempted to propose to two women– Andi Dorfman and Kaitlyn Bristowe— during their seasons of The Bachelorette, but neither woman chose him at the end. He also saw his relationship fail during the most-recent season of Bachelor in Paradise.)
Of course, there will be some "shocking" surprises this season. It appears that a few women from Nick's past will be showing up to shake things up. Oh…and some girl slaps him so that's something we can look forward to seeing.
Watch the new promo for Nick's season of 'The Bachelor' below:
(Photo: ABC)