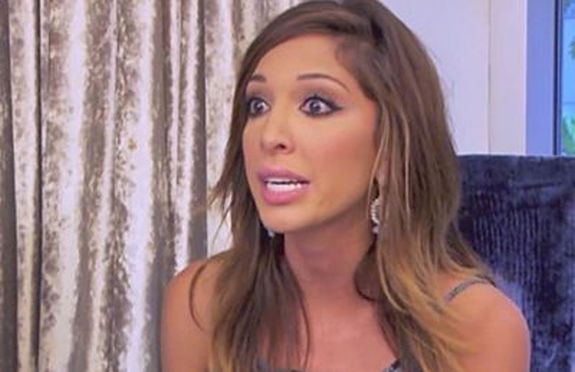 Farrah Abraham certainly didn't shy away from controversy in 2016. The Teen Mom OG star made headlines constantly this year, for everything from her parenting choices to her social media ramblings. She feuded with everyone from her 'Teen Mom' co-stars to her parents to Nicki Minaj, garnering her plenty of the attention she craves.
Here, The Ashley takes a look back at the most outrageous Farrah Abraham-related scandals, quotes and actions of each month of 2016….
January: Farrah Gets Her Daughter Involved In Her Spat with Nicki Minaj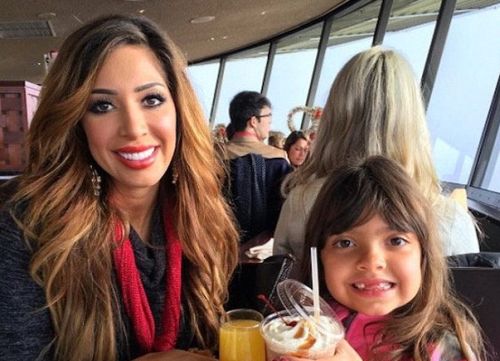 Farrah kicked off 2016 with the first of many feuds—doing some online sparring with Nicki Minaj. To be fair, Nicki started the fight when she tweeted that Farrah was a "c**t" after she watched an episode of 'Teen Mom OG.' Never one to let an opportunity to fight via the Internet pass her by, Farrah jumped on Twitter and unleashed her wrath on Nicki.
The fight itself wasn't the worst part, though. That came when Farrah posted a video of her then-six-year-old daughter, Sophia stating on-camera that "Nicki Minaj is a total loser." Fans scolded Farrah for getting her young daughter involved in the petty online spat.
February: Farrah claims she was "almost raped" by an Uber driver…but later admits that the guy just looked at her weird.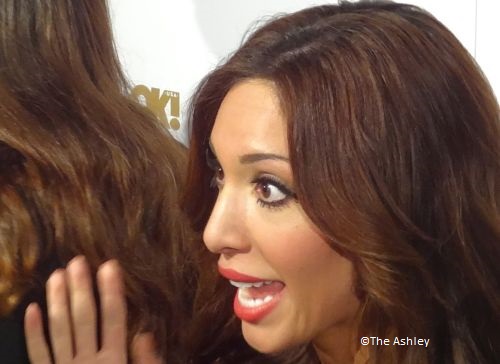 Farrah got herself banned from using Uber after she stated on her now-defunct "Farrah & Friends" podcast that she was "almost raped" by an Uber driver in 2015. She also stated that her sometimes-boyfriend, Simon Saran, came to her rescue after the alleged almost-raping.
"An Uber driver almost raped me so I don't know about Uber," Farrah said. "I felt like I was almost raped."
The only problem? No one even attempted to lay a hand on Farrah. In fact, a month later she admitted that the Uber driver in question had just been looking at her strangely.
"I wasn't raped," she later clarified on Nik Richie's podcast. "I felt like I was getting raped…I felt like I almost got raped. You're violating me by looking at me. Don't act like a rapist … I have a severe problem with that."
She told Page Six that the driver was "looking at her lecherously" and that "it could have escalated into a rape situation," adding that she "got into the car and the gentleman was looking me up and down."
Uber later revealed to Page Six that its investigation into the incident had uncovered that Farrah was banned because Uber claims that her companion (most likely Simon) was dumping drinks all over the Uber driver's car. As you do…
March: Farrah Calls Her Sick Daughter Sophia "Stupid" For Not Wanting to Go to a Party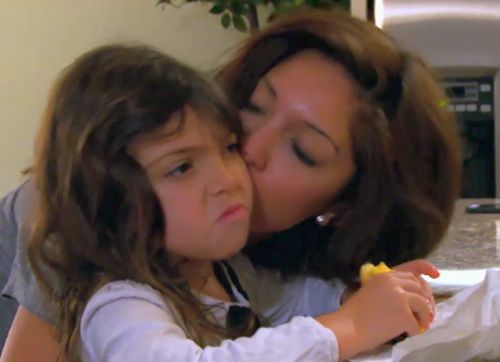 Farrah has been known to lash out at everyone from her parents to her producers to random schmucks on the street, but usually her daughter is spared. That wasn't the case this Easter when Farrah called Sophia "stupid," among other things, when the little girl—-who was sick at the time—-refused to go upstairs and get ready for an Easter party that Farrah wanted them to attend.
"I don't know why Sophia needs to act like a heathen, get up there," Farrah told Sophia. "Sophia is too stupid to get ready. It's not my issue right now."
When Farrah's mom, Debra Danielsen, told Farrah to take it easy on Sophia because she's sick, Farrah lashed out at her, too.
"I gave her medicine, I already did that stuff. It's ridiculous how she's acting," Farrah said of Sophia. "Between the two of you I don't know what's more irritating."
The episode was taped in March, but didn't air until September. After catching a lot of flak from fans, Farrah told Radar. "I can be stupid, anyone can act stupid. I keep it real. I'm not allowing my daughter to be spoiled or not responsible for her actions."
April: Farrah leaves an offensive racist comment on Blac Chyna's Instagram account.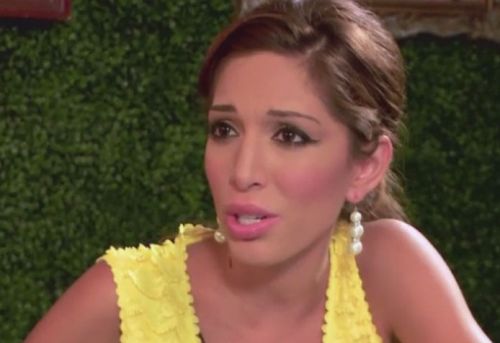 Farrah's feud with Blac Chyna seemed to come out of nowhere. When Blac Chyna posted an Instagram video of herself singing Beyonce's song "Sorry," Farrah left her thoughts in the video's comment section…in the form of a horribly offensive and racist remark.
"F**kin monkey ewe s**t come up 4 what she is a nothing," Farrah wrote.
Blac Chyna's fans were outraged, with one commenting to Farrah, "You have the nerve to call her a monkey, one of the biggest and most known racial slurs to call an African-Americans?"
Farrah later commented that Blac Chyna "has drug issues."
May: Farrah compares her seven-year-old daughter to a stripper working the pole.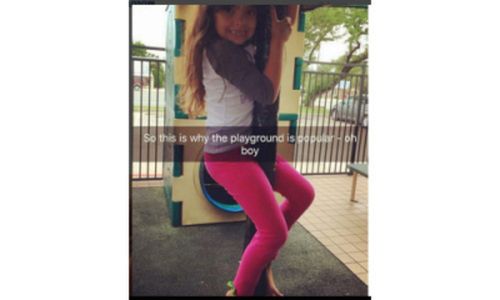 Farrah is no stranger to the adult entertainment world ("Backdoor Teen Mom," anyone?) but she still managed to ruffle a lot of feathers when she insinuated that her seven-year-old daughter Sophia may have a future in the industry as well. Farrah posted a photo to Snapchat of Sophia playing on a jungle gym pole. The picture itself was not offensive, but the caption Farrah posted along with it certainly was.
"So this is why the playground is popular – oh boy," Farrah wrote.
She was so proud of the caption—obviously comparing her daughter to a stripper—that she posted the picture to her Instagram account, adding, "#parenthood few do it right," (which really made no sense but, hey, it's Farrah…)
June: Farrah posts photos of her daughter doing sexy poses in a bikini during a modeling shoot.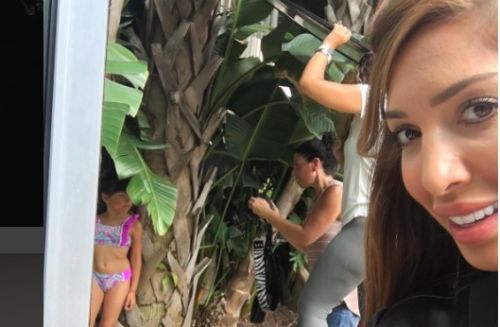 Farrah's parenting choices made headlines (again) in June when she posted modeling photos of seven-year-old Sophia in which the little girl wore a full face of makeup and a bikini. In one photo, Sophia looks much, much older than seven as she poses suggestively while halfway emerged in water.
Fans were outraged by the photos, commenting that Farrah was out-of-line for allowing her young daughter to do the photo shoot.
"She is a child!" one person commented. "Why in the hell are you trying to make her look sexy!?!? Is this not something to be reported? Now all the pedophiles have something to look at, this is infuriating and disturbing."
Farrah later told People that she saw nothing wrong with the photos.
"There's a lot of young children who do modeling, and everyone loves her pictures," she said. "I think because we're on 'Teen Mom OG,' we get bad criticism, but Sophia's doing amazing in modeling…I couldn't be more proud of her."
July: Farrah explodes on Dr. Drew after he makes comment about her; accuses him of watching her sex tape "daily"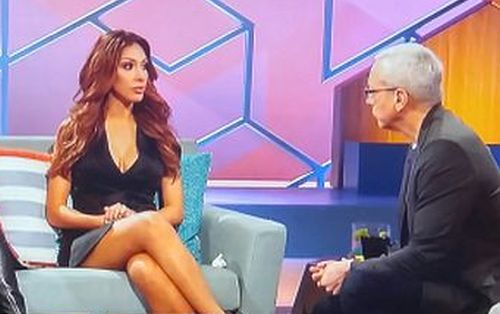 Dr. Drew Pinsky felt the wrath of Farrah in July. During an appearance on the Allegedly podcast, he was asked which 'Teen Mom' he would like to strangle if he had to. Drew chose Farrah. His response did not go over well with Farrah, who later told Radar Online that she now feels "unsafe" around Dr. Drew.
"I will no longer have him around me for my health and safety due to his violent 'strangle' actioning [sic]," she wrote.
Although Dr. Drew specifically stated in his original interview that he was not sexually attracted to Farrah or any of the other 'Teen Mom' girls, Farrah seems to think otherwise.
"Ok Dr. Drew it sounds like you want to strangle me and f**k me, gross!" she wrote in a statement to Radar.
She also claimed that Dr. Drew probably watches her "Backdoor Teen Mom" sex tape "daily."
August: Farrah allows her daughter to send and receive messages from strangers via Snapchat.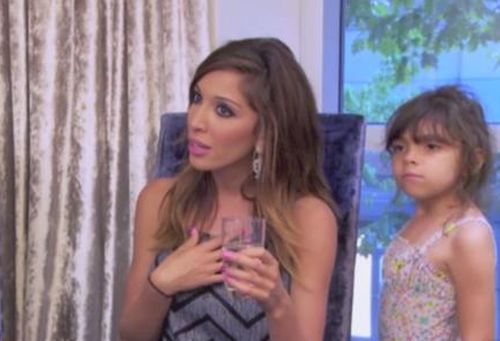 Farrah's daughter Sophia got her own Snapchat account this summer, and Farrah saw nothing wrong with the youngster using the social media site—even when Sophia started sending and receiving messages from strangers using the app! Sophia was so overwhelmed by messages that she eventually begged her followers to stop messaging her.
"Give me text, I'm coming for you," she said in a Snapchat video. "Excuse me, you guys are texting me so much could you please stop."
Alarmed fans alerted Snapchat that Sophia had an account, despite the fact that she is only seven. (Snapchat requires its users to be at least 13.) Sophia's account was terminated, but Farrah later told Radar Online that she saw nothing wrong with Sophia chatting with people on social media.
"I'm right there," Farrah told the site. "Seven-year-olds are lighthearted when it comes to Snapchat. If she wants messages and she's hyper then good for her before bed time."
September: Farrah announces that her daughter will be allowed to hire and fire employees working at her boutique.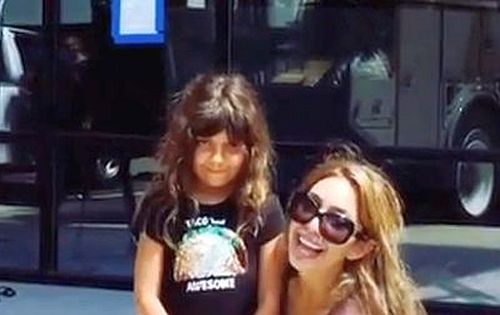 Farrah's daughter Sophia is only a kid, but the 'Teen Mom' star sees no reason why she can't fire and hire employees who work at the clothing boutique recently opened by her mother. Farrah also claimed that Sophia would be expected to work at the Texas-based boutique, as she is its "owner."
"[Sophia] will be in charge of hiring, firing, picking the best products and clothing to order for the store," Farrah told Radar Online. "Sophia said she may bring her dog Blue in with her while she works."
The boutique has been open for a few months now, but it's unknown if Sophia has given any employees the ax yet.
October: Farrah says that Amber Portwood's fiancé Matt Baier looks like a pedophile, which starts an on-stage brawl at the 'Teen Mom OG' reunion.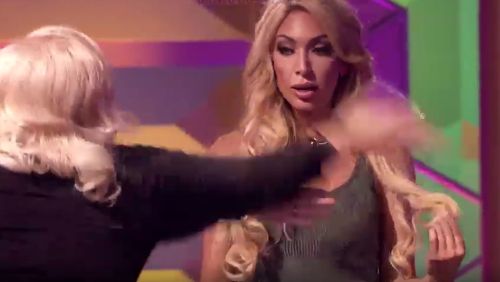 Farrah and her sorta-boyfriend Simon caused the biggest brawl in 'Teen Mom' history in October when, during the filming of the Season 6 Reunion show, they claimed that Amber Portwood's fiancé, Matt Baier, looked like a pedophile. Simon started it all in September when he joked that Matt was a "red dot in your community," making reference to the sex offender-tracking website that uses red dots to mark where known sex offenders live.
During the Reunion taping, Farrah and Simon were asked about Simon's comments, and Simon explained that it was said "in good fun." Farrah, however, saw nothing wrong with Simon's comments, and even added, "I'm sorry that Matt probably looks like it!"
That comment caused Amber to come out on the stage, swinging at Farrah.
The episode aired in December. (You can read The Ashley's recap of it here!)
November: Farrah appears to be giving her daughter weight loss tea in an Instagram ad.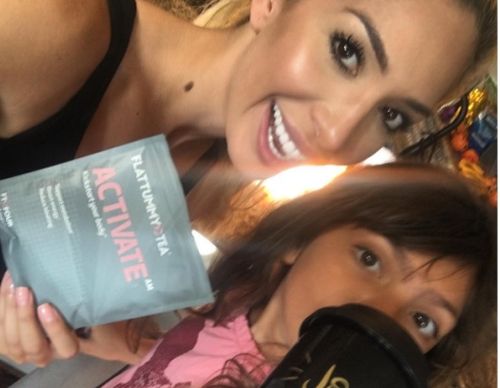 Farrah likes to show off her body on social media, so it's no surprise that one of those weird Instagram weight loss tea companies sought Farrah out to do some advertising for them. The problem came when Farrah posted a photo that showed her and Sophia holding "Flat Tummy Tea," along with a caption that insinuated that Sophia was also drinking the weight loss tea in an attempt to detox after eating too much Halloween candy.
"Teatime," she wrote, "Sophia & I after all that candy."
Fans were alarmed that Sophia was drinking Flat Tummy Tea, but Farrah later stated to Us Weekly that Sophia wasn't actually drinking the tea; it just looked like she was.
"She has strawberry milk and I have my tea," Farrah told the magazine. "She wanted to take a pic like that, so no, my daughter does not have tea in her cup."
Farrah's explanation didn't satisfy all of her critics, though.
"How stupid is she?" one follower wrote of Farrah. "Even if she didn't give Sophia the tea that is known for having a laxative effect, she is insinuating that she needs it."
December: Farrah buys her daughter a pony, Jacuzzi, a Mac Book computer and a golf cart for Christmas.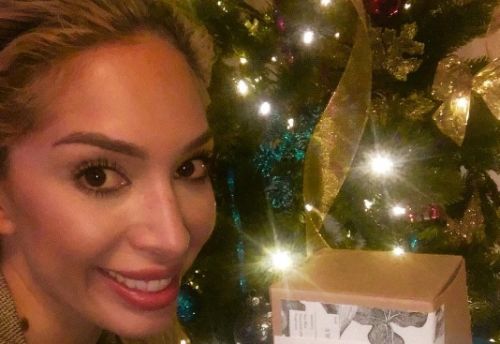 The year was almost done but Farrah managed to grab a few more headlines before 2016 came to an end! Right before Christmas, Farrah bragged that she was buying Sophia all of the super-extravagant gifts that the little girl had asked for, including, but not limited to a pony, a Jacuzzi, a Mac Book computer and a golf cart.
"As a mom, I check off all of that and some stuff from her store," Farrah told In Touch Weekly.
Fans thought that Farrah was full of it until she posted photos to her social media accounts on Christmas morning showing Sophia playing with her new mini horse, holding her new Apple computer, driving her new pink golf cart and swimming in her Jacuzzi.
(Photos: Instagram, MTV, Snapchat)