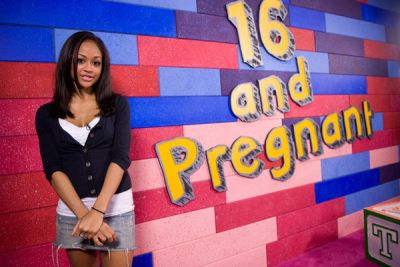 The family of late 16 and Pregnant star Valerie Fairman has stated that they believe Valerie would be alive today had she not appeared on the MTV reality show.
Valerie, who died tragically at the age of 23 on December 21 from a suspected drug overdose, starred on the second season of '16 and Pregnant' in 2010, an event that Val's adoptive parents, Janice and Gary Fairman, claim started her downward spiral.
"She was a gorgeous girl and it all went to her head,'" Janice told Daily Mail in an exclusive interview. "'She thought she could pretty much do whatever she liked after the show. She was determined to get everything she wanted.
"I wish she had never been on TV," Janice added. "It played a big part in her death. I think it messed her up big time."
While Valerie's adoptive parents, who are now raising Valerie's seven-year-old daughter Nevaeh, feel that the show is responsible for Val's death, it should be noted that Janice had previously stated that Valerie struggled with substance abuse issues even before getting pregnant at the age of just 15. After Valerie's episode aired in 2010, she continued to make headlines for her multiple arrests, one of which came in 2011 after she assaulted Janice. A few years after that, Valerie moved away from her family.
"When we tried to put our foot down, that's when she left home," Janice told the site. "I don't think there is anything more we could have done to help her."
Valerie continued to run into trouble with the law, getting arrested multiple times in recent years, most notably in 2015 when she was caught prostituting in Delaware.
Daily Mail also talked to Beth Shephard, Valerie's birth mother who also struggled with substance abuse issues. She lost custody of Valerie, due to her drug abuse, but the pair later rekindled their relationship after Beth saw Valerie on '16 and Pregnant.'
"One day my daughter Amanda shouted out: 'Valerie's on television.' So the TV show helped me find her," Beth told the site.
"Valerie went through everything I went through," Beth added. "She was brought up in the middle of the country and I wanted some excitement so I would run off to Coatesville [Pennsylvania] which is like the big town around here. It was the same with her…She told me how much she looked up to me and I was an inspiration to her because I had managed to get clean."
In a previous interview, Janice stated that Valerie had been in and out of at least five rehabs since her appearance on '16 and Pregnant' but was not successful at kicking her drug addiction. Beth told the site that she believes Valerie was hooked on "pink," a synthetic drug that is believed to be eight times stronger than heroin. However, it has not been confirmed to be the drug that Valerie took on the day she died.
Daily Mail also has photos of the house where Valerie died. The photos, which you can view by clicking here, only show the outside of the house, but are still quite sad.
No funeral was held for Valerie, who was cremated, but the family is planning a memorial for January 14 in Cochranville, Pennsylvania. Janice has stated that Val's daughter is doing well coping with her mother's death.
To read more about Valerie's tragic life before her death, click here.
To read Valerie's obituary, click here.
(Photo: MTV)