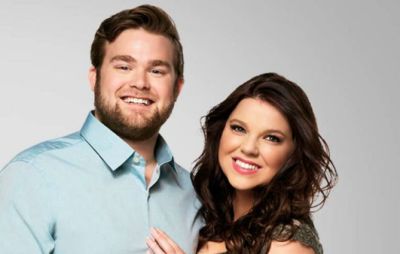 The new season of Marriage Boot Camp: Reality Stars doesn't premiere until Friday, but there's already drama surrounding the season!
Amy Duggar, niece of Jim Bob Duggar and cousin to the rest of the Duggar Clan, will be starring on the new season alongside her husband of one year, Dillon King. After the super-tease trailer for the new season hit the Internet last month, showing Amy discussing how she was once picked up by the throat by a man and held up toward the ceiling, viewers began to voice their concern for Amy. 
Obviously, because the show is about troubled marriages, viewers assumed that the man whom Amy claimed abused her was Dillon, but in an interview with People magazine, Amy and Dillon clarified that Dillon was not the person who (allegedly) physically abused her.
"We got hate mail and all kinds of stuff," Dillon told the magazine. "It exploded."
Amy did not reveal who the alleged abuser actually is, but did state that the person is still in her life.
"It was a family member," she said. "I love the person very much and we're better now. But I did need to heal from that."
We may learn more about the incident during this season of 'Marriage Boot Camp,' though.
"I can't say who it is, but I can say, on the show I did forgive them," Amy told the magazine. "It was a very heartfelt moment where I actually forgave that person who hurt me when I was younger."
The new season of 'Marriage Boot Camp: Reality Stars' premieres January 6 on WEtv. In addition to Amy and Dillon, the season will star Bachelorette couple Ashley Hebert and JP Rosenbaum and several other couples.
Click here to watch the super-trailer for the season!
(Photo: WEtv)