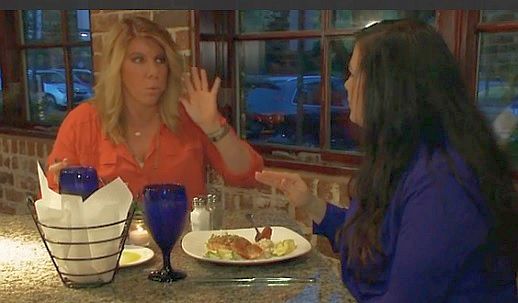 It's time for another action-packed, two-hour episode of Sister Wives. Of course by "action-packed" we mean that the episode is basically an hour and 50 minutes of Meri talking about—what else?—her Catfish Catastrophe, and 10 minutes of something vaguely interesting thrown in at the end. Luckily, we're here to make this snooze-fest a bit more interesting for you!
Anyway, we start out with Meri talking to Kody and Robyn, announcing that she's about to take a trip to Georgia to meet someone. No, it's not another fresh-from-Twitter gentleman caller. Meri wants to meet a woman named Sheryl who was catfished by the same man/woman as Meri.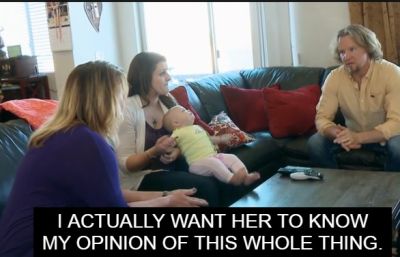 Kody seems to be against Meri going on the trip. He thinks that if they just stop talking about the catfisher, the whole situation will go away. But, Meri needs closure…and TLC needs something to fill these dang two hours, so Meri's got to go on that trip! Eventually, Kody agrees to allow the trip. (This is kind of comical because Meri's bags are basically packed and she's already booked an Uber to the airport.)
He does insist that Meri tell Sheryl how he feels about the whole situation. It's an odd statement but, then again, Kody's an odd dude.
Robyn thinks the trip is a great idea. (After all, it will give Robyn a few glorious days in which she doesn't have to hear the word "catfish" uttered in any of the Brown households.) She tells Meri that she thinks that her interacting with another victim of the catfish will be helpful. As soon as Robyn says that, though, it's like a record scratches and Meri gets all bug-eyed.
"Don't use that word! That's not what we are!" Meri says.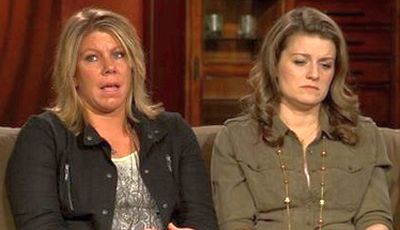 Robyn looks startled, and then a bit angry that Meri snapped at her for calling her a victim. After all, Meri's been playing the victim for the last two seasons, so it's kind of ridiculous all the way around.
Meri goes on the trip to Atlanta to meet the other victim catfish companion. We spend a good half hour listening to Meri rehash the details of the catfish story with her new pal, Sheryl. Like Meri, Sheryl also started talking to "Sam" on Twitter.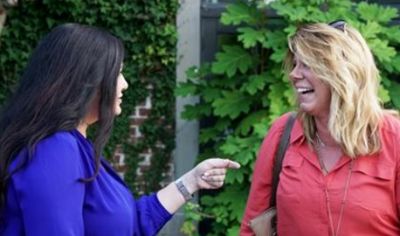 Meri and Sheryl decide they will go see a therapist together because…well, how long can they really stretch out the footage of Meri and Sheryl talking about the catfisher while munching on breadsticks at a restaurant?
They talk to therapist about their similar interactions with the woman who pretended to be Sam. Meri says she was very vulnerable at the time and formed a close connection with the catfish. They say they want to know what would make someone do this to them.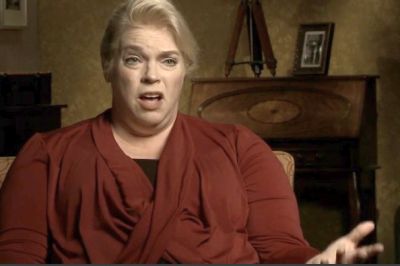 The therapist makes it very clear that she cannot diagnose anyone without meeting them, and cannot speak of any particular circumstances unless she knows the person involved. So…basically…she can't tell them anything that they don't already know.
There's more filler in this episode than in one of Meri's Thanksgiving centerpieces!
We finally get a break from the Meri catfish story and get to watch as  Mykelti and Tony take their engagement photos. Of course Christine, who lacks boundaries, decides to come to the photo session, dragging an assortment of offspring with her. (She did say that Tony invited her, though.) They have hired a "brilliant" photography to snap photos of the couple.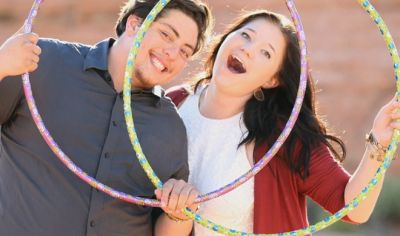 The "engagement photo session" is basically just Mykelti and Tony trying on wigs, playing with emoji face pillows and posing awkwardly open-mouthed with hula hoops (as you do). They should have saved the cash they spent on a photographer and just had Christine take them down to Party City and snap some pics while they played in the clearance aisle.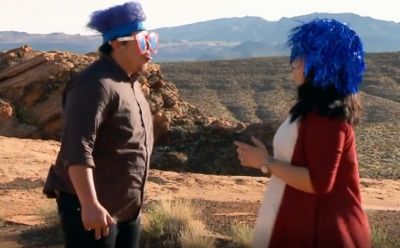 Christine seems to be doing her best to make it look like she likes Tony, but it's obvious she thinks he's kind of shifty. She tells us she just "wants Mykelti to have a happy marriage." So, basically…she doesn't want Mykelti to end up like her.
We go back to Atlanta to check in with Meri and her fellow un-victim. For once, the catfish talk starts to get interesting because we get to hear more of the "behind-the-scenes" stuff of the saga.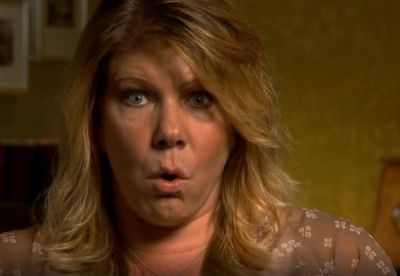 Meri tells her friend that "Sam" was pressuring her to leave Kody. Meri tells us that she finally realized that the catfish was sending her pictures of an actor and portraying that as Sam. That is when she got suspicious and demanded to see "Sam" face-to-face. When the catfisher knew she was caught, she started blasting Meri online. Meri says that put a strain on her relationship with Kody and the rest of the family.
After meeting with the therapist, Meri and Sheryl go to a winery so that they can spill more catfish tea while getting trashed on white zinfandel. However, Meri tells us that she's not much of a drinker.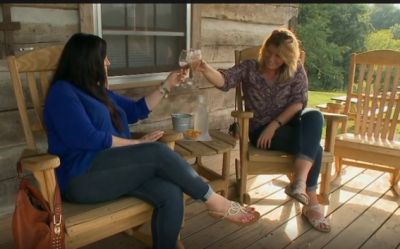 "Wine is not a tenet of our faith, but when in Rome…" Meri says.
I'm not sure I'm believing the whole "Meri doesn't drink" thing. I mean, no woman pushes that hard for an in-home wet bar if she doesn't drink!
Later, Meri comes home from Georgia and she and Kody go to see their family therapist Nancy. Kody asks Meri about the trip, and they tell Nancy that this is the first time they've seen each other since Meri came home a few days ago.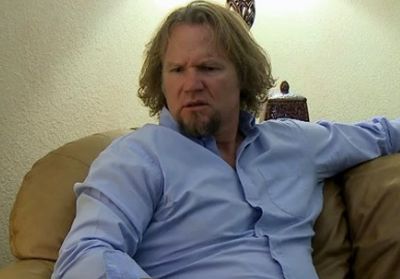 Um…she's been home a few days and Kody has yet to see her at all?! And these people wonder why they have marriage problems!?
Meri tells us that she is "so over" and "done talking about" the catfish situation. Suuuuure, Mer.
Things start to get weird. Kody tells the therapist that when he first found out what had happened to Meri, he wanted to beat up the catfisher with a baseball bat. Meri says that she gets all warm in the no-nos when she hears Kody talk about beating someone to a pulp in her honor. It makes her feel good that Kody was being protective of her. Nancy looks slightly disturbed, and keeps looking at Kody like, "Are you sure you want to threaten violence while being filmed for TV?"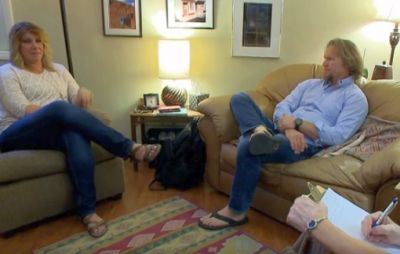 Meri says the catfishing was a wake-up call for her and Kody.
"I don't think for years prior we were being very honest with each other," Meri says. "I think we were just kind of putting it aside and trying to make it look like everything was okay."
Meri says their problems have been on and off for a lot of years. The therapist tells them that the "level of decency" between them has grown, but they are lacking affection. Meri says she wants to have a normal and happy relationship with Kody, but they haven't had that in years.
The therapist asks them to commit to trying to work on their marriage. Meri agrees right away but Kody hesitates…a lot. It seriously looks like he's trying to decide if staying with Meri is worth all the drama, tears and tantrums he knows he'll be subjected to. He's not too excited about the therapist's plan.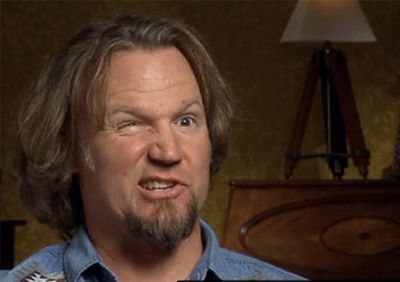 Eventually he slowly tells the therapist, "That…could…work," in a way that makes it sound like he's agreeing to have his scraggly hair plucked from his head one strand at a time.
We are nearing the end of the episode, so it's finally time to get to the real action that the network has been teasing all week. Mariah has called a meeting with the parents to reveal some big news. All of the adults gather in Christine's library and Mariah is sweating off her overdrawn eyebrows in anticipation of telling her secret.
Since the parents have had two daughters recently tell them they were getting married, naturally they all assume that's what Mariah is going to reveal.
"I hope if you're engaged it's to somebody I like and know," Kody says.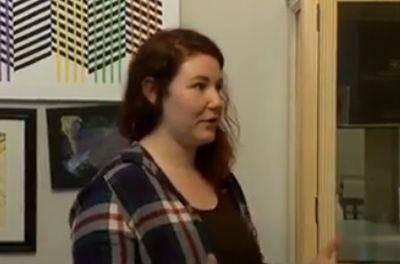 But she's not engaged. After working up her courage Mariah announces, "I'm gay!"
Everyone has a look of shock on their faces…except for Christine's mom who has a big ol' smile plastered on her face for some reason. The parents ask Mariah if she's being serious and she confirms that she is.
On the preview for next week, we can hear Kody say, "We are not happy that Mariah is gay, we are happy that she knows herself."
Meri seems to be having a harder time with Mariah's news than the other adults.  She can be seen breaking down in tears in the preview.
"I thought I knew my daughter, but I didn't," she says.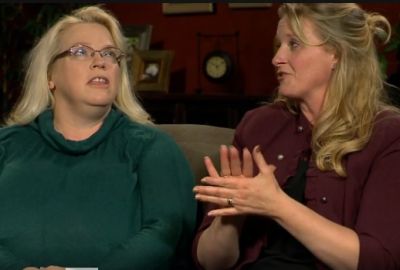 We also see a preview of Meri and Mariah having a one-on-one talk next week.
"I just don't want to say the wrong thing to be offensive," Meri says. "But at the same time, I want to be able to say what I feel."
Mariah, wearing a snapback and manly clothing (to really nail the lesbian stereotype, I guess?) tells Meri that she really needs her to stop pushing her for more information.
To read our recap of the previous episode of 'Sister Wives' click here!
(Photos: TLC)