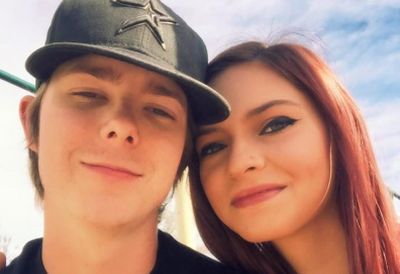 Eric Kennemer, a dad who appeared on the fourth season of 16 and Pregnant, is currently in a Houston ICU after a car crash reportedly left him in critical condition. His wife Myranda Trevino, who starred with him on the 2012 episode, is the mother of Eric's two daughters: five-year-old Kaylee and two-year-old Ryleigh.
Eric's grandmother Barbara James, posted about the accident on her Facebook page.
"I would like to ask my Facebook friends to please say a prayer for my grandson Eric Kennemer," she wrote. "He was in a bad car wreck last night. He is in the hospital in Houston TX. Say a prayer for his wife Myranda."
Not much is known about the car crash that left Eric hospitalized. From what The Ashley can tell from social media posts, the accident occurred on Saturday night. According to a Facebook post made by Eric's aunt Tammy Hardy, Eric is currently in critical condition.
Myranda and Eric are one of only a few couples from '16 and Pregnant' who are still together. They are best remembered as the couple who moved into a "shack" that they planned to fix up into a home. They got married in November 2013, shortly before welcoming their daughter Ryleigh in April 2014. Myranda was not one of the girls chosen from her season of '16 and Pregnant' to star on Teen Mom 3.
Myranda posted a heartbreaking prayer request on Facebook after Eric's accident.
"Please God, give Eric the strength to become well again," she wrote. "And please give me the strength to be strong for both of our wonderful children you have blessed us with, as well as him. Please let him come home soon. His children need him very much. And so do I."
The Ashley is will update this story when more information becomes available.
UPDATE: Eric's mother has reached out to The Ashley to inform her that a lot of the information on the crash, originally posted by Us Weekly, is incorrect, including that another person died in the crash involving Eric.
"Nobody else was involved in the crash, nobody died..he was in a wreck and he is in ICU.." Eric's mother said.
(Photo: Facebook)