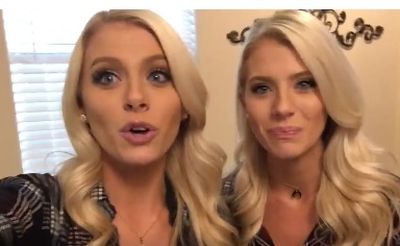 Haley and Emily Ferguson didn't win Ben Higgins' heart on The Bachelor, or find true love on Bachelor in Paradise but the blond twins just scored something way better than any of that– their own reality show!
Well, sort of.

During the Winter 2017 TCA Freeform panel on Tuesday, the network announced that they will be reworking the show featuring Ben and his fiance Lauren Bushnell for its second season. The show, originally called Ben and Lauren: Happily Ever After?, will be called The Twins: Happily Ever After for Season 2.The focus will shift from Ben and Lauren to Emily and Haley.
It is unknown at this time whether or not Ben and Lauren will at some point come back to TV and reclaim their show. In the meantime, however, 'Happily Ever After' will focus on Emily and Haley as they move out of their mother's home in Las Vegas and attempt to establish some sort of careers for themselves (in between 'Bachelor in Paradise' appearances, of course). The twins had appeared on Ben and Lauren's 'Happily Ever After' season, which aired in 2016.
In a video posted to Twitter, the twins admit that even they are surprised that they somehow managed to again extend their 15 minutes of fame.
"We got our own show, you guys," Haley says, to which Emily adds, ""We don't really know how!"
'The Twins: Happily Ever After' premieres Monday, March 20 on Freeform.
Watch the twins' announcement below:
Did you hear?! @Hfergie11 & @efergie13 have their own show! Don't miss The Twins: Happily Ever After? on March 20 on @FreeformTV! #TheTwins pic.twitter.com/ZszeUVW6d2

— @HEA (@hea) January 10, 2017