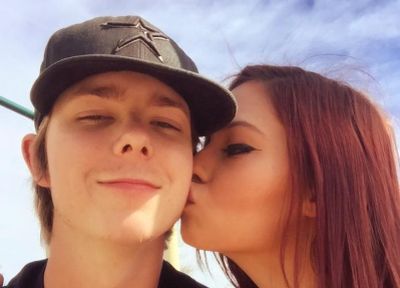 Former 16 and Pregnant dad Eric Kennemer remains hospitalized after a car accident left him in critical condition over the weekend. Earlier this week The Ashley told you about the crash, and since then Eric's family, including his wife, 16 and Pregnant Season 4 star Myranda Trevino, has provided some updates on his condition.
According to a GoFundMe page set up to help Myranda and Eric and their two young daughters, Eric is still in critical condition in the ICU at Hermann Hospital in Houston. On the fundraiser page, Eric's mother Michelle Lawrence stated that Eric "will have a long road to recovery."
"He will be out of work for some time," Eric's mother wrote. "He has a loving wife, Myranda and 2 beautiful daughters, 5 yo Kaylee and 2 yo Ryleigh. Myranda is trying to work and continue care of the babies with help from family and work to keep things going."
After the January 7 crash, Eric was reportedly taken by LifeFlight to the Houston hospital. The Daily Mail has reported that, in the days since the crash, Eric "has stabilized enough to be taken off a ventilator and has been able to squeeze people's hands and open his eyes." (The Ashley can't confirm this, however.) Us Weekly was the first outlet to report news of the crash.
On her Facebook page, Myranda wrote that she appreciated the support she has been given by her family and friends during this ordeal.
"Thank you everyone for all of the prayers. I know God is here and listening to everyone. Please keep praying for Eric," Myranda wrote. "I know he is loved by so many. Me and the girls miss you so much sweetie! Please get well soon! You're in my heart!"
Few details of the crash are available. However, reports that another man died in the crash have proven to be false, according to Eric's mother, who reached out to The Ashley to correct false information that had been circulating about the crash.
Myranda and Eric are one of only a few couples from "16 and Pregnant" who are still together. After their episode aired in 2012, Eric and Myranda got married in November 2013. They welcomed their second daughter Ryleigh in April 2014.
If you'd like to make a donation to help Eric, Myranda and their family, you can do so using the dedicated GoFundMe page set up from them here. At press time, $750 had been donated to help the family. ('Teen Mom' and '16 and Pregnant' executive producer Morgan J. Freeman even donated to the fund!)
UPDATE: On Thursday, Myranda posted a Facebook update stating that Eric is alert and talking a bit.
"Eric said my name today!" Myranda wrote. "I told him the girls miss him and love him and he replied quietly, 'Kaylee, Ryleigh.' I said yes baby. I love you. And he whispered, 'I love you too!'"
(Photo: Facebook)