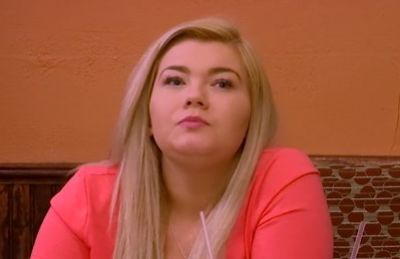 Amber Portwood is being sued by a former landlord who says the Teen Mom OG star failed to pay some of the rent she owed–while also failing to clean up after her assortment of pets!
Daily Mail broke the story on Wednesday that rental company Zuluscape filed a lawsuit against Amber on January 11, charging that she was responsible for over $6,000 worth of damage done to the rental house she once shared with fiance Matt Baier.
While none of the 'Teen Mom' stars are known for their tip-top housekeeping skills, Amber may take the prize for messiest of the bunch, if the charges listed in the lawsuit prove to be true.
Zuluscape filed the lawsuit in an Indiana small claims court claiming that it took $1,250 in deodorized paint to cover the "pet smell" left by Amber's herd of animals. The animals also allegedly ruined the carpet, causing the landlord to have to replace all of the house's carpets and deodorize the sub floors. ('Teen Mom' viewers have seen Amber's dogs use the indoor carpet as their bathroom on multiple occasions last season.)
In addition to all the pet damage, the landlords claims that they also had to fix damaged dry wall, replace interior fixtures and remove all the junk that Amber and Matt allegedly left behind when they "moved on up" to the Indianapolis suburbs.
The lawsuit also claims that Amber owes them over $1,600 in unpaid rent.
The Ashley has discovered that Amber is not the only person listed as a defendant on the legal papers. A person named "Matthew Balen" is also named. His home address is the same as Amber's current address.
While "Balen" may just be a typo for "Baier," it's possible that "Balen" is yet another alias used by Amber's fiance.
On Wednesday morning, Amber responded to the lawsuit in a series of tweets, claiming that a landlord was trying to take advantage of her fame.
"So I wake up to some scam artist company trying to sue me for a cleaning deposit over a year ago," Amber wrote. "On a house we had professionally cleaned?
"Lord people never go on TV! Because people will try to take you for everything you have. Here comes the lawyers. So sad honestly…Ugh."
Amber and the landlord will go to battle next month. The first hearing for the case will take place in Indiana on February 23.
UPDATE! Amber's lawyer, Jill Barcken-Emerson, has released a statement to The Dirty (no pun intended) regarding the lawsuit.
"Amber and Matt strenuously deny the allegations being made against them, and they look forward to their day in court where they can prove these allegations are without merit," she told the site.
(Photo: MTV)