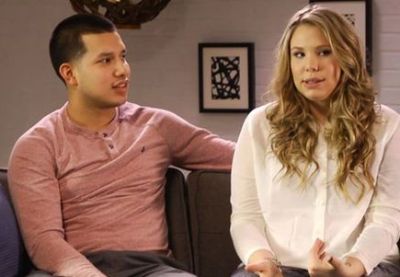 Javi Marroquin's marriage to Kail Lowry is crumbling on the current season of Teen Mom 2, but on Monday, Javi pleaded with the show's fans to stop picking on his ex-wife.
In a Instagram live video, Javi gave 'Teen Mom 2' fans an update on where his relationship with Kail stands, letting them know that they are in a much better place currently than where they were when the Season 7B episodes were filmed.
"Kail is not a bad person, and I do not hate Kail," Javi said. "Maybe I did say that I hated her at the time [the episode was filmed], but I was angry."
In a move that surprised a lot of people watching the video (judging by the comments left on the screen), Javi actually defended his ex-wife, and asked the show's fans to stop bashing her on social media.
"I'm tired of the bashing," he said. "I care about Kail, I want to see her do well, I want to see her graduate."
He also stated that he and Kail are trying to be civil to one another because of their son, Lincoln and Kail's son Isaac. Javi acknowledged that some of his previous actions had created unnecessary drama between him and Kail, and said that he is working to stop doing anything that could eventually hurt Lincoln and Isaac.
"Me and Kail are on the same page," Javi said, pointing out that the media keeps trying to pit the exes against each other. "I'm tired of the back-and-forth articles saying I did this to Kail or she did this to me. Kail and I are on the same team…I'm not out to get her, I actually care about her a lot.
"Kail's a good person and she's going through her own stuff and I hope she gets through it. If she needs my help, I'll be there for her," Javi added. "There is no Team Kail and there's no Team Javi. Stop saying bad stuff about Kail and stop saying bad stuff about me."
And, just for the record: the fact that Javi and Kail aren't tearing each other's eyes out anymore doesn't mean that they're getting back together. The exes made it clear recently that their split was definitely permanent.
It's an interesting turn of events, considering Kail and Javi have been posting cryptic (and sometimes not-so-cryptic) Twitter digs at each other since they officially split back in 2016.
We will get to see Javi and Kail discussing their marital issues on the next season of Marriage Boot Camp: Reality Stars, but the couple never had any intention of getting back together even when they filmed that show back in October. They were simply learning to co-parent better.
While Javi is resolving not to bash Kail anymore, the drama still continues. Earlier Monday,  Javi tweeted that he was upset that someone had sent Kail photos showing a man engaged in some, um, sexual activity with a woman. The person claimed that the man in the photo was Javi, and that the photo was taken while Javi was still married to Kail. (The Ashley is not going to post the photo because, well…ew.)
Javi vehemently denied that the blurred-out man in the photo was him.
"The guy is white," he tweeted. "I'm not stupid and I'm mad whoever sent it to Kail to start drama. She actually believed it for a second [before] texting me."
Not surprisingly, the photo can be traced back to a click-bait story posted to Jenelle Evans' public Facebook page, which frequently posts weird, fake stories about Jenelle's 'Teen Mom' cast mates.
Anyway, a new episode of 'Teen Mom 2' airs tonight! Catch up on The Ashley's 'Teen Mom 2' recaps here!
(Photo: MTV)