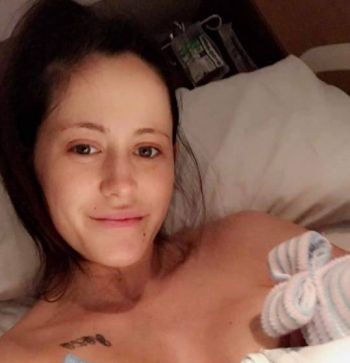 Jenelle Evans is a mother…again.
The Teen Mom 2 star announced on Tuesday via Snapchat that she has given birth to her third child, a daughter that she and her boyfriend David Eason planned to name Ensley Jolie.
"Let the collection of baby girl bows begin!" Jenelle posted on her personal Facebook page. "She's so precious and beautiful. I'm so in love with her already! Happy and healthy!"
In a series of Snapchats, Jenelle can be seen holding Ensley.
Ensley is Jenelle's first daughter, although she already has two sons: Jace, whose father is Andrew Lewis, and Kaiser, whose father is Jenelle's former soulmate, Nathan Griffith. Ensley is also David's third child. He has two other children by two other women.
"She is so perfect!" David wrote of Ensley on his Facebook page. "You were so strong through all this and you did so great Jenelle! You are such a good mommy, thank you for giving me such a beautiful baby girl! Ensley loves you so much already!"
Jenelle officially announced her pregnancy in August, but, as faithful Roundupers know, The Ashley was the first to break the news that Jenelle was pregnant. (Naturally, Jenelle denied it and madness ensued. Jenelle to this day insists she wasn't pregnant during the sliver of time when The Ashley announced her pregnancy.)
Jenelle's pregnancy was officially outed via a police report when Jenelle and David got into a minor car accident in July.
"It's unfortunate because every situation in my life centers around court, cops and getting in trouble," Jenelle told MTV.com. "Even when I find out I'm pregnant again, it has to involve that. So I waited until all of the focus was away from that police report, then I'm going to reveal that I'm pregnant."
Anyway, it appears from the posted photos that Jenelle may be pulling "a Maci" (i.e. not showing the baby's face in photos until she can sell the pics to a magazine).
UPDATE! Jenelle spoke to E! News about her delivery.
"It was a quick delivery and only had to push twice," Jenelle told the site. "We are already in love with her, and she's so beautiful! We are just ready to take her home!"
See the first photos of Ensley below: (Click to enlarge!)