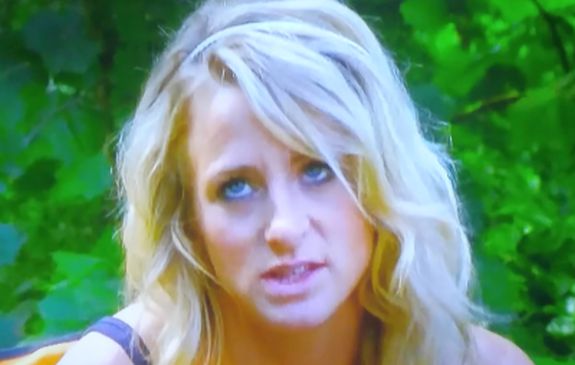 Hey y'all! Gather 'round! It's time for another Teen Mom 2 recap! Things have been getting pretty crazy in 'Teen Mom 2' Land, what with all the unexpected pregnancies, "non-pregnancies" and divorcing happening!
We start things off deep in the swampy hollers of West Virginia. As you'll remember, Leah was forced to grab up her youngins and throw 'em into her trashmobile because the state of West Virginia was under water due to massive flooding. And–wouldn't ya know?– Mother Nature didn't have the decency to wait to unleash her fury until after Leah was completely moved into her new house!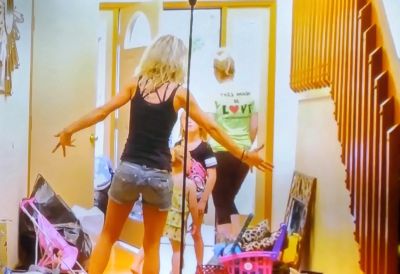 Dern that Mother Nature!
Luckily, the worst of the flooding is over and Leah can resume her moving. She sends off the kids with her glazy-eyed sis Victoria (who must have OD'd on canned cheese product or something right before shooting this scene…yeah, that's it…). Once they're gone, Leah is free to finish packing up the family's stuff to "move it on up" to their new house!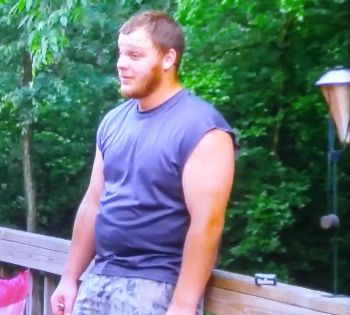 Leah's brother-in-law, Brian (who, by the way, does nothing to dispel all of those hillbilly stereotypes, right down to the actual red neck), stays behind to help Leah shovel the rest of her crap into the moving van.
It's been stressful for Brian, who's spent the better part of his day helping Leah box up three-year-old Mary Kay products, all of the "pills for the baby's head", a lifetime supply of Lunchables, and possibly a collection of banjos. He's done been worked to the bone, y'all!
Leah explains that, while this move has been tiring, it's been much easier than all of her other moves. Plus, this time Leah will be moving into her own home, rather than a rented abode, so it just feels different! She doesn't even have to split the "wersher and dryer" up between her and an ex-husband this time around!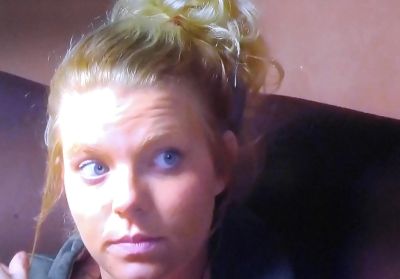 Later that day, Victoria returns to help Leah and Brian haul the last piles of crap into the moving truck and then they head on down to the nicer part of the holler, where Leah and the girls will now be residing. The 'Teen Mom 2' crew greets Leah at her new home, and they celebrate Leah's new home ownership.
Meanwhile, in South Dakota, Chelsea is calling her dad Randy to see if her baby-daddy Adam has thrown a few protein-shake-soaked dollar bills into the child support bank account. Randy says that Adam has made 1.5 payments in the last six months, so he is very behind on his child support. Chelsea doesn't seem surprised.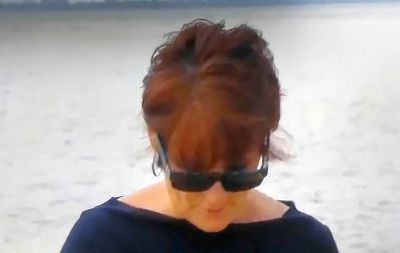 Over in North Carolina, Barbara is taking her collection of grandchildren to the beach. She asks Jace about his recent trip to Florida with Jenelle and David. Jace reports that he had a great time, but that he missed Barb. Babs tells Jace that she hopes one day her "bitch of a daughta" and her boooooyfriend will invite her along on a trip so that they can all take a vacation as a family.
Oh, look at you, Babs, making a joke!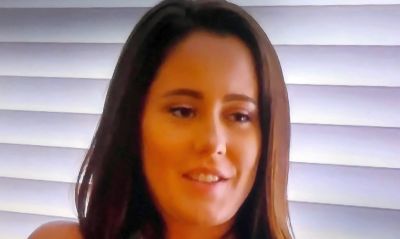 Meanwhile, Jenelle is thrilled because she and David have found a plot of land that they want to buy and build a house on.
Of course, there is much to be done before the house can be built. They must have the soil tested, and actually put the money down to purchase the land. (Not to mention, Jenelle has to at some point head on down to the Walmart and pick herself up another set of Mason jar glasses, since we all know that her old ones had a tendency of shattering on people's heads…and stuff.)
Jenelle says she didn't realize how big of a step building a house with a boyfriend is. (Usually, she and whatever back-from-the-dead creature she's dating just make babies together. You know, nothing serious.)
"I guess it's not a big deal because we already live in a house together, and we pay bills together," Jenelle says.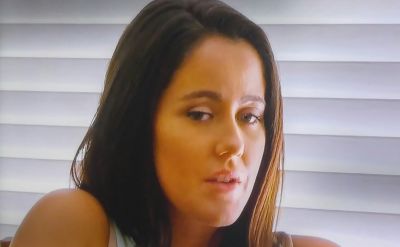 Oh, look at you, Jenelle, making a joke about David helping to pay the bills!
"There's so much possibilities we can do with this land!" Jenelle squeals.
SO MUCH POSSIBILITIES, PEOPLE! SO MUCH!
Finally we head to Delaware, where Kail is upset that all of Javi's stuff isn't going to be out of the house right away. (Maybe Javi can call up Leah's brother-in-law Brian and see if he can help him move? It would probably only cost Javi a pack of Marlboros and a bucket of chicken from The Colonel to get Brian's services. Just sayin'…)
Javi's new apartment isn't ready yet, so Javi'll be slummin' it at the Holiday Inn for the next few days, because Kail won't even hear of letting him stay in the house's spare room.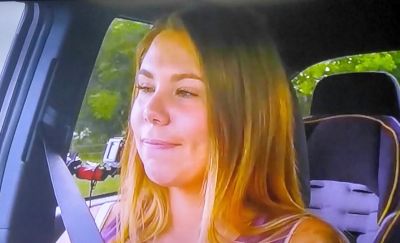 Javi's trying to make pleasant conversation, asking Kail what she has planned for the day, but she snaps at him and tells him that what she's doing is no longer his business. So…it's basically just like when they were married. Javi is still trying to be nice, and things are getting awkward.
He asks her if she has days where she regrets what happened between them, and Kail basically has to stop herself from cracking up.
"I'm good right now," she says.
Back in South Dakota, Chelsea and Aubree are going to see some turtles and talk about the baby Chelsea is pregnant with. That's literally all they have to film for Chelsea.
Luckily, we can always count on good ol' Leah to bring the sh*t show. She's all moved into the new house and for some reason has her hair all pinned up like some sort of Amish schoolteacher. Later, though, she lets her hair down and gets ready to get wild because Victoria, Brian and Leah's brother Isaac have come over to sit in the dirt out yonder behind Leah's house and listen to Leah brag about all the places she's considering taking the girls on vacation.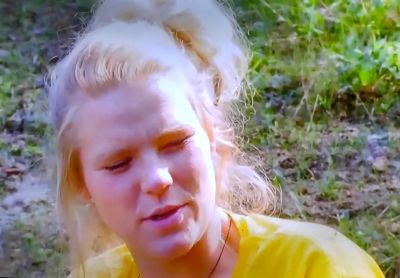 Poor Victoria looks like she can barely afford a hairbrush so it must be hard to hear that her sister is going to be living it up in Hawaii.
Unfortunately, though, Leah can't go to Hawaii. She explains that it's a 22 hour flight from The WV to Hawaii, and that's just plumb too long! There's no way she and the girls could "set" still for that long.
Let's stop here for a minute. How does Leah figure that it takes 22 hours to fly from West Virginia to Hawaii!? Is she strapping cardboard wings to that dern Corey Tyler and having him fly them all over there or what?!
Of course, there's always the possibility that Leah has no idea where the hell Hawaii actually is on a map. After all, the schools "are not well" in West Virginia.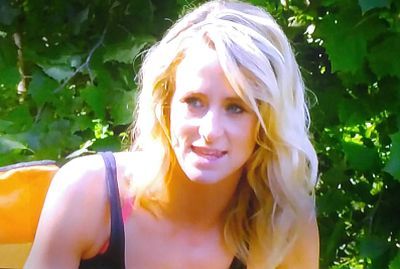 What's sad is that no one in this group has even picked up on the fact that Leah's estimation of the flight length is ridiculously wrong. (For the record, a non-stop flight from West Virginia to Hawaii is about nine hours, give or take. Add in a layover and it may take about 12 hours of total travel time to get there. Thanks Google.)
Luckily, though, Leah has found a vacation spot that's much closer to the Home Sweet Holler: Mexico!
Victoria is worried about Leah taking her litter out of the country. (At least, I think that's what she was saying. It was hard to tell, what with all her slurring and pausing and whatnot.)
Leah explains that she's in the process of getting the girls their passports, but she's worried that the girls' dads may have an issue with her taking their kids out of the country. She's particularly worried about Jeremy saying yes, being that she flipped out when he recently took Addie to Ohio with him. Leah is scared that Jeremy will say no to Addie going to Mexico and she'll have to say "adios" to her vacation plan.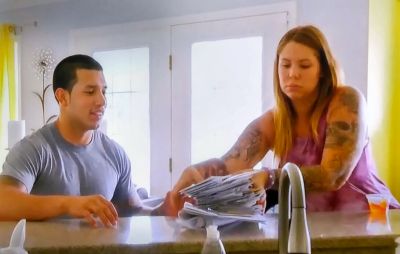 Back in Delaware, things are still tense between Javi and Kail. Javi has come to the house to collect all of the mail he got while he was deployed. Kail takes the mail out of the bin she's been storing it in (i.e. the trashcan) and pushes it toward Javi. As Javi sifts through his State Farm bills and Drake Fan Club newsletters, Kail is getting visibly annoyed.
"Can you, like, open your mail at your hotel or something?" Kail asks. "This isn't your home anymore!"
Yikes.
Kail tells Javi that she needs him to leave the house, because she has a lot of important tasks to take care of.
"I need to go to Starbucks and stuff," she says.
I…can't….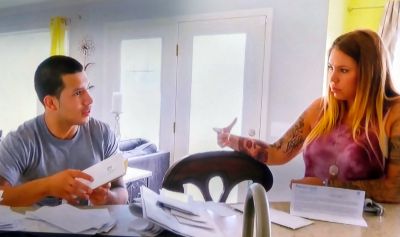 Javi can't believe that he's getting kicked out of the house so that Kail can go satisfy her urge for a $10 Cafe Cappa-whatever-rich-people-drink.
Before Javi leaves, though, Kail demands that he turn in his house keys. She's worried that Javi will use them to sneak into the house in the middle of the night and crawl in bed with her and/or drink her Starbucks…or something…
Javi is in disbelief. He returns with the house keys and Kail actually double checks his key ring to make sure he didn't hold back a house key for prowling purposes.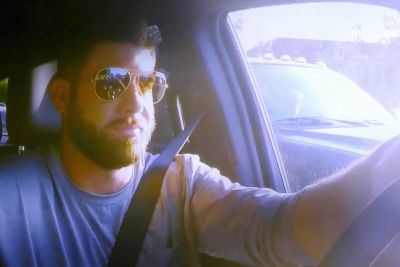 Meanwhile, Jenelle and David are heading out to see their land. Jenelle is getting impatient and tells David that they need to "hurry up on this…especially now…" David then reaches over and rubs Jenelle's stomach/crotch area.
They start talking about how "ecstatic" they are about "something" that made them at first feel "shocked." They aren't revealing what they're talking about but…this is Jenelle so it can only be one of two things: either Walgreens is having a sale on eyebrow pencils or Jenelle has done got knocked up again.
All of a sudden, Jenelle seems to remember that she's being watched by MTV Big Brother via the car cameras, but she seems to very badly want everyone to "guess" her secret.
"I'll just start wearing big hoodies from now on," Jenelle says as she creepily rubs her stomach.
Hmmmm…. I wonder what they could possibly be talking about. Could it be….THIS?! Of course not. Because Jenelle was NOT pregnant guys…come on. Obviously.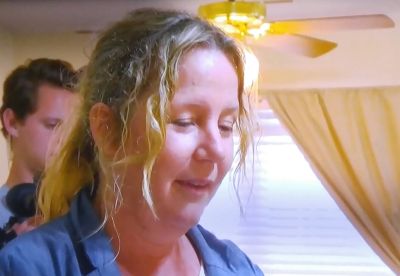 Later, the show's producers come over to talk to Jenelle and David about the big secret thing that they had been talking about in the car. Producer Kristen asks the couple if they have "any news" they'd like to share with the producers. Producer Kristen plays back the tape that was filmed during Jenelle and David's car conversation, and they both just there and giggle stupidly. The producer straight-out asks them if they're expecting a baby.
"No," Jenelle insists in the same tone she used to use to tell Babs that she wasn't hungover, but was just tired, had a headache and felt like she was going to throw up. "Actually I'm not at all."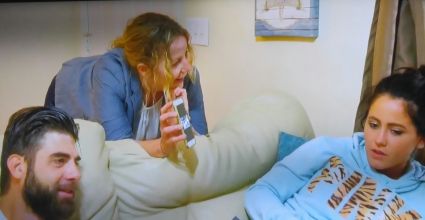 The producer, of course, isn't buying it. She demands to know what Jenelle and David are talking about in that conversation, if it isn't the Spawn of David being implanted in Jenelle's frequently-used womb. They insist they were just excited about their new land.
"Are you hoping it's a boy or a girl land?" one of the producers asks.
You see what he did there?
"It's so funny she doesn't believe you!" David tells Jenelle.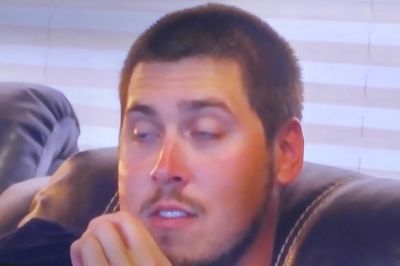 Meanwhile, Jeremy is sitting in his camper in South Dakota when he gets a text message from Leah. She tells him that she can no longer take the girls to Hawaii, due to the 22-hour flight.
THINK OF THE BABIES!
Leah tells Jeremy that she wants to instead take the kids to a Mexican resort that's "kid-orient-tated."
Jeremy's dad doesn't like the idea of his grandbaby being done there with those "Mex-eye-cans," where babies are getting snatched up.
"Down in Mexico, it'd be easy for somebody to grab up Leah and them kids!" Jeremy's dad says. "It's just got me shiverin' like a house cat!"
AS.YOU.DO.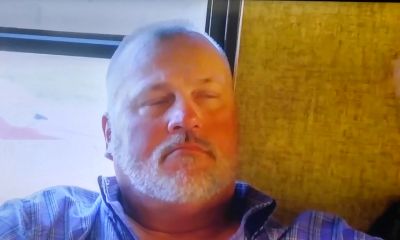 Seriously, all this scene needed was Antoine Dodson doing the running-man inside the camper while singing his "Hide Yo Wife! Hide Yo Kids" song! (By the way, that song will never not be funny in The Ashley's eyes.)
Before Jeremy totally shoots down Leah's "tequila wishes and taquito dreams", though, he wants to know what Corey thinks of Leah's plan to take the youngins to the savage streets of Mexico. He rings up Corey and asks him if he's planning to let the twins go to Mexico. Corey responds with his classic line.
"Huh?"
Corey has no idea about the trip. Jeremy informs him that Leah is planning on taking the kids to Mexico. And not even that new-fangled Mexico–the REAL Mexico!
"I ain't heard 'bout nuthin'!" Corey says.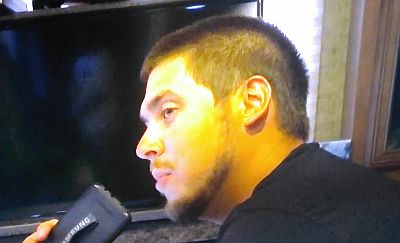 Jeremy hangs up with Corey and calls up Leah. Leah insists that she just hadn't gotten around to telling Corey about the Mexico plan. Jeremy asks Leah, hypothetically, if she'd be OK with him taking Addie to Bora Bora. That's not really a fair question, because Leah pretty much thinks "Bora Bora" is something she and the girls are going to be eating in Mexico.
Leah insists that she trusts Addie to be with Jeremy. Next, they start fighting about the time Jeremy took Addie to Ohio without Leah's "permission." Jeremy makes it clear that he's not happy about Leah's Mexico plan.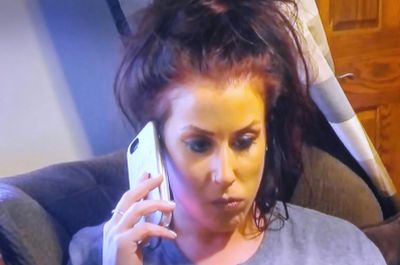 Meanwhile, Chelsea is texting with Adam's other baby-mama Taylor. Apparently, Adam is super-behind in paying child support to Taylor too. Adam owes Taylor as much as $5,600 and Chelsea about $3,500. Taylor is hoping the court nails Adam for all the child support he owes them. (Maybe they'll even throw him in jail! Think of all the gym seshs he'd miss! That's the way to hit him where it really hurts: take away his bench-pressing!)
Speaking of Adam, Producer Mandi has to go down to the gym to locate Adam. He's still pouting about being misrepresented on 'Teen Mom 2', and Producer Mandi asks why Adam never has any friends around when he films.
"I don't have any friends," he tells her. "No one wants to film."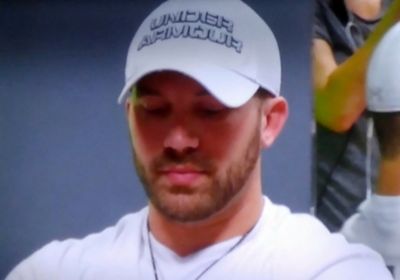 Not even Adam's once-trusty filming pal Justin is interested in showing his mug on-camera anymore.
"There's no positivity  ever for any of the guys on this show," Adam says, before discussing how Chelsea is in a "little fantasy world" with Cole because she's about to get married.
"She's trying to push me out of the picture completely, but she's pretty quick to collect a $980 child support check," Adam says.
Since Adam brought up child support, Producer Mandi asks him if he is all caught up. Adam insists that he is. Producer Mandi makes arrangements to film Adam with Aubree the next day, but when the crew arrives, Adam is refusing to answer the door. The crew goes to wait in the car, and all of a sudden they see Adam's truck pull out of the garage and burn rubber down the street.
Mandi is in shock, so she calls Adam to see what's going on. He, of course, doesn't answer the phone.
In Delaware, we are checking in with Jo and Vee. Apparently Jo and Javi talked the night before on the phone, and Jo informed Javi that he is free to take Isaac whenever he wants to. Jo sees the importance of continuing the relationship between Javi and Isaac, which is surprisingly mature and respectable of Jo. (He's come a long way! I'm proud of ya, buddy!)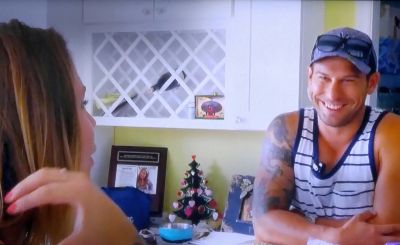 At Kail's, Producer J.C. is chatting with Kail about Javi. Kail is insistent that she doesn't want Javi in the house because he's all up in her space. She is hoping for a Javi-free house as soon as possible.
The next day, Javi takes Lincoln and Isaac out to lunch, along with some family members and friends. Someone asks Lincoln what kind of room he wants at Javi's house, and Isaac starts talking about how he'll decorate his room. The only problem is that Isaac won't have a room at Javi's. (Anyone else think it was kind of crappy for Javi's friend to bring up the room stuff right in front of Isaac? Geez.)
Javi tells Isaac that Kail will be talking to him about the room situation, but later promises Isaac that he'll always have a special room in the house. (Why not just get two beds and put them in Lincoln's room? Problem solved.)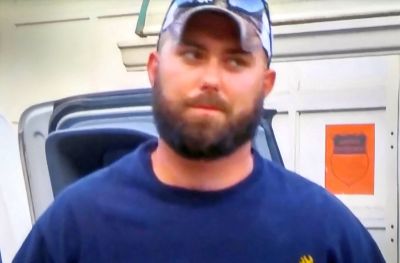 Back in The WV, Leah is mad that Jeremy called up Corey and got him all riled up about Mexico. She heads to what looks like an abandoned trailer park to exchange the twin youngins with Corey, and the Mexico trip comes up. She apologizes to Corey for him having to hear about Mexico from Jeremy instead of from her.
They proceed to hillbilly-grumble over each other for a few minutes. They're both talking at the same time, so I have idea what the hell was discussed. Words is hard, y'all.
The next day, Victoria drags her lifeless corpse back over to Leah's house to talk crap on Jeremy. Leah is ranting about Jeremy calling up Corey and trying to ruin the Mexico trip.
"He does irrational things!" Leah says.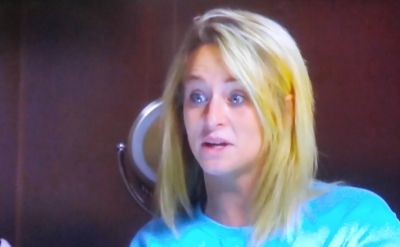 Now, call me crazy, but I don't really think Leah is a person who should be judging anyone's actions in terms of rationality. Just sayin'…
"Jeremy didn't even give me a chance to talk to Corey!" Leah shouts.
#DoubleBabyDaddyProblems
Leah claims that Jeremy was intentionally trying to be a ding-dang trouble-causer and was trying to create drama between her and Corey.
Finally, we check back in with Jenelle one last time. She tells us in a voice-over that she and David got into a minor car accident a few weeks back.
"The police report was leaked and it had personal information in it," Jenelle tells us. "Now everyone is spreading rumors about me being pregnant."
UM…they can't be "rumors" if they are true, Jenelle! (She must have gone to one of those "not well" schools down in West Virginia or something.) Jenelle is reading all about her pregnancy on Twitter and is freaking out.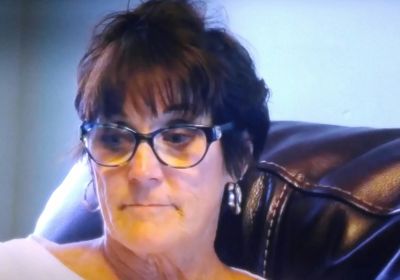 Word of Jenelle's pregnancy has spread to Babs' place. The producer sits down with Barb, who reads aloud from a story that states that Jenelle confirmed she is pregnant in the police report from the accident. This is apparently the first time that Babs is hearing that Jenelle has yet another bun in her oven.
"I just asked her if it was true and she said, 'Oh my god! I can't believe you're in my business again!'" Barb said.
(By the way, during this time Jenelle was having a massive freak-out session online.)
Barb says that Jenelle is refusing to tell her if she's pregnant or not, because Jenelle feels she can't trust Babs.
"I says, 'This is not my fault! You're mad at me, you're mad at the Jenelle haters, you're mad at the world'" Babs tells the producer. "If ya pregnant, it's gonna come out sooner or lata!"
Babs has no idea why Jenelle is being so secretive about this pregnancy. After all, she was relatively open and proud during her other 100 pregnancies or so.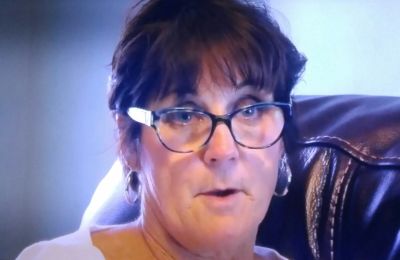 "Jesus Christ! She's gonna have anotha baby with anotha guy she hasn't even known a year. This is her fourth pregnancy and she's 24 years old. When is she gonna get it and grow up?!" Babs exclaims, before pointing out that David and Jenelle will have each had three children with three different people.
Babs is worried how Jace will take the news. She's worried that Jace will be hurt that Jenelle is having yet another baby even though she still doesn't have custody of him.
Right after this scene, MTV throws in one of those itsyoursexlife.org pitches to encourage girls to prevent unwanted pregnancies. I think that was a nice touch.
Next week, Jenelle finally admits she's pregnant, Isaac is bothered by the fighting between Javi and Kail, and Producer Mandi confronts Adam for being a douche.
To read The Ashley's other 'Teen Mom 2' recaps, click here!
(Photos: MTV)