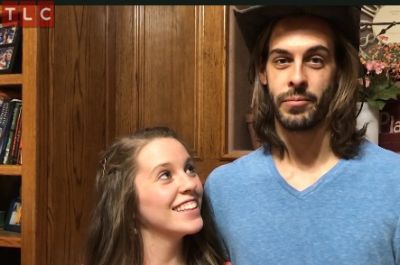 Jill and Derick Dillard are expecting their second child in July, and today the Counting On stars revealed the gender of their unborn child in an anti-climatic video posted to their family website.
Jill and Derick (who was for some reason all dressed up like he was going to a rodeo) announced that they will be adding another son to their forever-growing brood.
"The next Dillard baby is a…BOY!" Derick and Jill say in the video. "We're so excited."
In a gender announcement story on People.com, Jill and Derick are shown holding up a weird, mismatched outfit of presumably boy's clothing to show that the baby is a boy. (Naturally, Jill is shown barefoot and pregnant because…well…Duggars…)
The baby boy will join his big brother, Israel, who turns two in April.
"Israel didn't really understand what was happening, but he's just excited because other people are excited," Derick said in the video. "He's excited about his new little baby brother."
"Children really are a wonderful blessing from God," the Dillards told People.  "Having Israel has been such a delight to us that we know a second sweet baby will only continue to add joy to our family."
In the announcement video, Jill also gave fans an update on her pregnancy.
"I had morning sickness in the first trimester and now I'm feeling a lot better in my second trimester," she said.
Jill's sister, Jessa Seewald, is also currently pregnant with her second baby. Unlike Jill and Derick, though, Jessa and her husband Ben have yet to announce the gender of their unborn baby, who is due next month.
To read our 'Counting On' recaps, click here! Watch Jill and Derick's gender reveal video below: