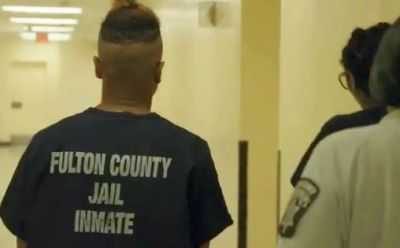 A&E is heading back to jail!
The network announced on Monday that it has renewed 60 Days In for another two seasons. The show, which has volunteers pose as inmates inside of a jail population in order to find out how things really are for those who are behind bars, was filmed inside of an Indiana jail for its first two seasons. For Seasons 3 and 4, the show will take place in Atlanta's Fulton County Jail.
During the show's first two seasons, the other inmates and very few jail staff members were aware that the volunteers were not actual inmates. The network confirmed that Seasons 3 and 4 were filmed back-to-back with two groups of participants, so that inmates and jail personnel would not watch be able to watch Season 3 while Season 4 was filming. In Indiana, inmates and staff members were told that the cameras and production crew were documenting life in jail.
Deadline noted the Atlanta jail is run somewhat different than the Indiana jail from the first two seasons of the show. In Indiana, the participants were housed in pods with many other inmates of their same sex, but all within the same jail.
"Unlike previous seasons, male and female participants will be separated in two different facilities — men in the main campus where they share a cell with one other inmate and females in cell-bunk form with seven other inmates," the site reported. "The participants are on lockdown with their cellmates for more than 15 hours a day and face immense pressure to fit in or risk being the target of threats, violence or their having cover blown."
In the trailer for the upcoming season, Chief Jailer Col. Mark Adger describes the kinds of people who land in Fulton County Jail.
"Every day we're dealing with murderers, gang-bangers and inmates who have severe mental illness," he says. "This jail is under federal supervision because of dangerous conditions and overcrowding. On top of that, we're having a lot of trouble with our staff. We've improved our conditions but there are still a lot of things to do."
Each season, nine participants will live among the Fulton County Jail inmates for 60 days. Some of the people who will be going undercover as inmates in the upcoming seasons include a special education teacher, a former corrections officer, a man who believes that the system discriminates against African-Americans, a Marine, and a woman who met her husband while he was incarcerated.
'60 Days In: Atlanta' premieres Thursday, March 2 on A&E. Watch the new season's trailer below:
"I think it's a huge risk, but I like risk. I think it's the only way you grow." Do the time with #60DaysInAtlanta, March 2nd at 9/8c. pic.twitter.com/bMQ3ROsIhQ

— A&E Network (@AETV) January 30, 2017
(Photo: A&E)