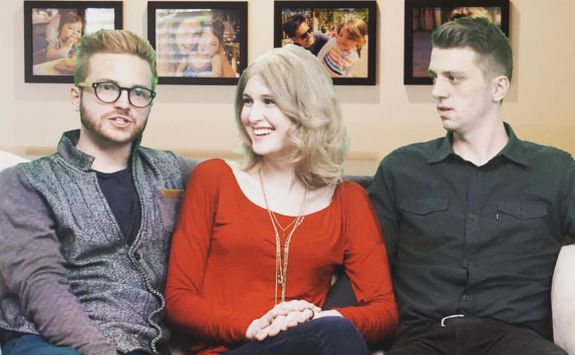 Back in 2007, MTV found a hit in its Engaged & Underage reality show, which featured teenage couples who were getting married, despite their young ages. A decade later, most of the couples featured on the show are divorced, but one couple– Amanda Liston and Chad Ferris— are coming back to TV to discuss their growing family, which now includes five children and another husband!
Starcasm broke the news earlier this week that TLC would be airing a special called Brother Husbands, which showcases the Stone family. The family includes one woman, her two husbands and the woman's five children. The Ashley recognized Amanda and Chad from their MTV past and has dug deeper into their unconventional family dynamic.
"Amanda has a very full love life with not one, but two husbands, and navigates a polyamorous relationship with both of them and their five children," the description for the special reads.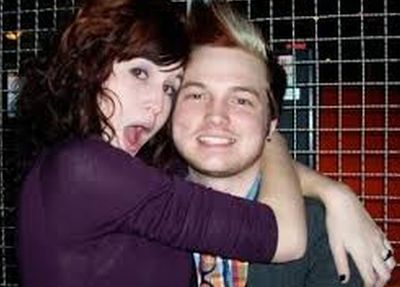 The Ashley has dug deeper and found that Chad and Amanda were married in 2008 (with the wedding airing on 'Engaged and Underage.') It appears that they remained a regular, monogamous couple for years afterward, buying a house in Arizona and welcoming two children together: Atreyu (who is now 7) and Cassian (who is 5).
In 2014, it appears that Amanda's second husband, Jeremy Johnston, joined the family. (In an Instagram post, Chad calls Jeremy his best friend, but it's not known if the guys were friends before Jeremy became romantic with Amanda.) In December 2015, Amanda gave birth to triplet girls (who are fathered by Jeremy): Sparrow, Lilith and Eve.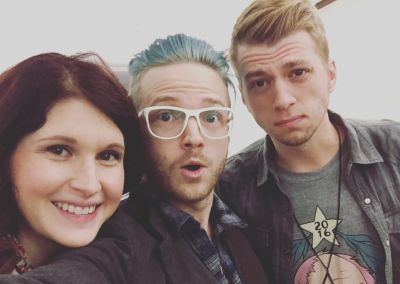 Chad obviously had no problem with the arrangement. In fact, in December 2015 he posted a photo of him with Amanda (who was pregnant with Jeremy's triplets at the time), along with the caption, "Remember that time [Amanda] and I celebrated our wedding anniversary while she was pregnant with triplets by her other husband (who is my best friend)? That was tight."
Amanda considers both Chad and Jeremy her husbands and they refer to their family unit as the "Stone family," which may be a mixture of Amanda and Jeremy's last names. Since polygamy is illegal, Amanda is probably only legal married to Chad, though.
Much like the Brown family of TLC's Sister Wives, the Stone family lives as one big unit, with the kids from both men growing up as siblings. It's not known if Chad and Jeremy have any type of romantic relationship of their own.
Back in 2009, Amanda wrote a blog for MTV.com to give 'Engaged & Underage' fans an update on her marriage to Chad. At that time, she didn't seem to have any idea that she and Chad would someday add another man to their marriage.
"Married life is honestly more than I could've ever hoped for," Amanda wrote. "Not to sound like the ending of a romantic drama, but I love Chad more and more every day, and life with him is such a joy. I can't wait to see what else life throws at us!"
'Brother Husbands' airs this Sunday, after 'Sister Wives.' Right now it is only scheduled to be a one-time special, but TLC has a tendency to turn specials into full-blown series if they do well in the ratings.
Update: 'Brother Husband' star Chad left some more info about his family in the comments of the Starcasm article:
"Hello! I'm Chad, from the show. I am bisexual. Jeremy is straight. To clear up the confusion. We are all emotionally committed and connected. But I only have a sexual relationship with Amanda, and Jeremy and Amanda's is there own as well.
We also are technically 'co-husbands' not brother husbands. I believe that is made up term for the show haha! We are not religious.
We do both dress well, and have great hair and if being called gay is the worst thing you can think of….I think we will survive. Most of my friends identify in the community.
We are a family together with Amanda as the leader and main breadwinner of our family as well. Jeremy and I split the majority of the child raising at home while she is at work. Since my children are school aged I now work when they are in school.
As far as DNA of the triplets and how we decided and how they were conceived you can see the episode. It's addressed there, but they were a total fluke and conceived the good old fashioned way.
Being confused about our family and sexuality is natural. I enjoy the conversation you are having and I hope this show can spark many many more. And challenge everyone traditional views of marriage, family, sex and sexuality."
See more family photos below:
Wanna know what's happened to the other couples from 'Engaged and Underage' in the 10 years since the show premiered? Click here!
(Photos: Instagram, MTV)