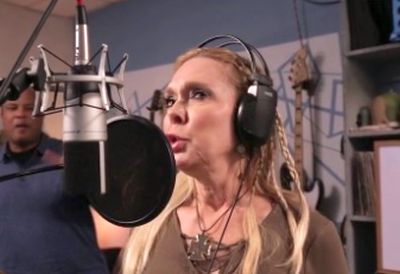 Yes, you read that headline correctly: Teen Mom OG star Debra Danielsen is officially a rapper with her own music video.
Although it looks like a joke headline written by The Ashley, this is actually happening. Debra, the mother and frequent verbal punching bag of Farrah Abraham, has taken to the mic to release her frustrations. Her new rap song, "Debz OG" (yes) and its accompanying music video, is now out.
According to Starcasm (the first site to post this musical nightmare), Debra collaborated with 5th Child, DJ Venom and Clouds & Crayons on the song, and recorded it at a studio in Jackson, Mississippi.
In the video, we see Deb wearing some fly sneakers and braids in her hair (but not feathers because…well, she's not going to a Ke$ha concert or anything…)
In one part of the song, Deb sings about her life as a misunderstood 'Teen Mom' star.
"Hello I'm Debra/ You've seen my face on camera/ You've seen me on your TV/ You think you know whateva."
Farrah does not appear in Deb's music video (nor does her 'Teen Mom' co-star Butch Baltierra, who really should have been singing backup for this song, in The Ashley's opinion.)
Debra has stated that the rap song will be a part of her upcoming 'Teen Mom' special "Being Debra," which will air in April on MTV.
To read the complete song lyrics, click here! If you'd like to see other horrific musical offerings put out by other 'Teen Mom' cast members, click here to watch Farrah's music video, or here to watch Teen Mom 3's Mackenzie McKee rap.
Watch the "Debz OG" video below:
UPDATE! Sadly it appears that "Debz OG" has deleted her video. The Ashley will be on the lookout for it, and will repost it if it reappears online.