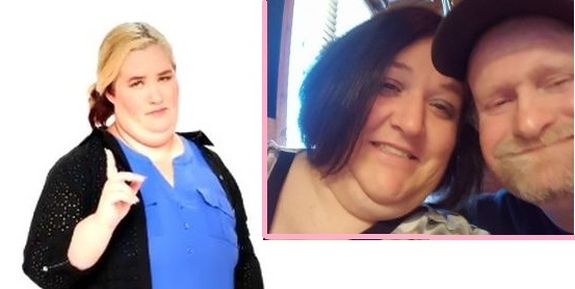 Mama June Shannon's new reality show, Mama June: From Not to Hot, hasn't even premiered yet and it's already chock-full of drama!
It was announced this week that June's former common-law husband, Mike "Sugar Bear" Thompson, will be making guest appearances on the show…and he's not coming alone. That's right, kids: Sugar Bear has done gone and got himself hitched, and Mama June is not happy about it!
In true Here Comes Honey Boo Boo fashion, the wedding was quite the "classy" affair!
Sugar Bear married Jennifer Lamb under a tent in his backyard in McIntyre, Georgia. Sugar Bear—dressed in his finest jeans and a dress shirt— was escorted down the aisle by his daughter, Alana "Honey Boo Boo" Thompson. They joined Jennifer and her son at the altar and lit candles to celebrate their union.
Wedding guests enjoyed the finest bologna and snack meats, courtesy of a deli tray, and all the Coca-Cola they could drink. (Click here to see pics from Sugar Bear's wedding.)
While Honey Boo Boo and her sister Lauren "Pumpkin" Shannon attended the wedding, it does not appear that Mama June joined in the festivities, even though Sugar Bear invited her. As always, there is drama on the horizon.
"Jennifer and June do not like each other in the slightest, but neither woman will admit it's all due to jealous," a press release for Mama June's new reality show states. "Jennifer tries to sabotage June's diet and turn Alana against her."
Sugar Bear and Mama June were never legally married, although they had a camouflage-themed commitment ceremony back in 2013.
Some folks are surprised to hear that Sugar Bear ended up with a woman. After all, he admitted last year on Marriage Boot Camp: Reality Stars that he has hooked up with men on several occasions. But, The Bear now claims he's straight.
As we previously reported, though, Mama "don't care" about Sugar Bear anymore because "she's got a whole new life"…and a new reality show. Mama bought a new house, had weight loss surgery, got a complete makeover, started a diet and exercise program and is on the hunt for a new man.
"When I'm done, I'm not even going to recognize my own self in the mirror," June says in a promo for 'Mama June: From Not to Hot.'
The show will take viewers through Mama June's physical and lifestyle transformations.
"We are pleased to show viewers a new side of Mama June as she transforms her body, and her life, while still maintaining her signature sense of humor," WEtv president, Marc Juris, said in a statement. "We are rooting for her as she goes on her amazing journey and we know the audience will too."
'Mama June: From Not to Hot' premieres February 24 on WEtv. Watch a promo clip of the show below.
#MamaJune's got a brand new look! ? Stay tuned! pic.twitter.com/BicZklUKr0

— WE tv (@WEtv) January 9, 2017
(Photos: WEtv, Facebook)