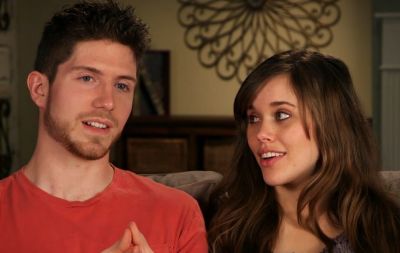 Fundies rejoice! Jessa Duggar Seewald has added another child to her ever-growing litter!
The Counting On star and her husband Ben Seewald announced via People that Jessa gave birth to their second child– a son– early Monday morning. The baby boy, whose name has not yet been released, joins his brother Spurgeon, 15 months.
"We are so happy to announce the arrival of our sweet second son," the couple told the magazine in a statement. "He was born at 4:26 a.m. this morning, weighing 8 lbs. and 11 oz., and measuring 21 3/4 inches long. Mom and baby are both doing well. We are so thankful to God for this precious new gift of life and are excited to be a family of four! Thanks to everyone for your prayers and well wishes!"
It is not known if Jessa had a home birth, or if she gave birth in a hospital. Typically, the Duggar girls strive to give birth at home (and in Anna Duggar's case, on the toilet), but both Jessa and her sister Jill Dillard had to go to the hospital for the births of their first kids, due to complications. (Jessa gave birth at home to Spurgeon, but had to be rushed to the hospital afterward due to excessive bleeding.)
Jill is currently pregnant with her second child. She and husband Derick Dillard recently announced that they, too, are having another boy.
Jessa and Ben have not yet announced the name of Baby Seewald. When Spurgeon was born, the couple waited nearly a week to announce the [unfortunate] name they had chosen for their son. While they have stated that they will likely not subscribe to the Duggar family habit of choosing names for their kids that all begin with the same letter, Jessa and Ben have said that they may continue to name their babies after prominent Christian leaders.
Baby No-Name will likely not be the last child for the couple. In the past, Ben and Jessa have expressed their desire to adopt children, and they are also sticking to the typical Duggar birth control regiment: not using any birth control and "allowing God to decide" how many children they will have.
Click here to see the first photo of Baby Seewald No. 2!
(Photo: TLC)