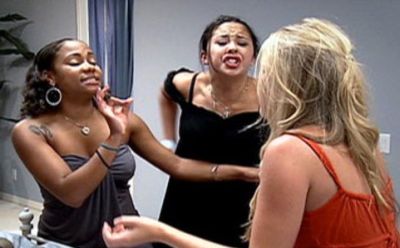 Bye bye Bad Girls Club!
The Oxygen Network has announced that it is taking an ax to some of its reality TV programming, including the long-running show Bad Girls Club! The show, which has somehow managed to run for 11 years, will end later this year. Season 17, which premieres on February 14, will be its last.
'Bad Girls Club' is one of the network's most-popular reality shows. The show's premise is simple: a bunch of wild and loud women are put together and basically left to fight and bicker on-camera. 'Bad Girls Club' has been spun-off a total of four times, and the show's stars have gone on to do other reality TV work.
Although the show continues to do well in the ratings, it is getting the ax because Oxygen is going to be re-branded as a crime network this summer. The network has been inching its way into the crime genre, adding more and more shows about crime, murder and court to its schedule in recent years.
"The recent expansion of our Crime Time weekend block has enjoyed double-digit gains and has really resonated with our female audience," Lifestyle Network President Frances Berwick told Deadline. "It's certainly really encouraging; we've always had a very avid fan base for crime programming, and it feels the right moment to go all in."
Oxygen is also cancelling Sisterhood of Hip Hop and Battle of the Ex Besties because, like 'Bad Girls Club,' the shows fail to fall into Oxygen's new crime genre.
'Bad Girls Club' fans are already taking to social media to air their grievances about the show's cancellation.
"Oxygen cancelling #BadGirlsClub only makes them look stupid… Their own hit show is BGC.. Major mistake!" one angry fan tweeted.
"Life sucks! Bad Girls Club is cancelled and I'm so sad," another tweeted. "They can't do this!"
A California-based fan has even started a Change.org petition to try to save the show. His plea is kind of hilarious when you realize he's talking about a show that features a bunch of girls screaming at each other.
"The show offers many young fans the ability to see themselves in these young girls," he wrote on the petition page. "Where it is good or bad, whether one likes or dislikes any of the girls broadcast each season, the 'Bad Girls Club' inspires these girls who sign up for this show to see something beyond their pasts and change, and for the fans to attempt to do so as well."
At press time, the petition only had 94 signatures.
The final season of 'Bad Girls Club'– to be called 'Bad Girls Club: East Meets West' will premiere February 14 on Oxygen.
(Photo: Oxygen)