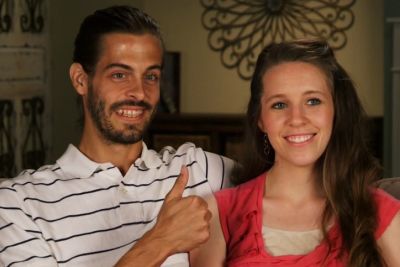 Jill Dillard is currently pregnant with her second child, but she's not letting that get in the way of her travel plans! The Counting On star recently revealed that she and her family are planning to head back to the mission field in Central America very soon, and some of the show's fans are deeply concerned for the health of the Dillards' unborn baby.
In a recent interview with People magazine, Jill revealed that she and her husband Derick, as well as their toddler son Israel, will be leaving Arkansas shortly to return to El Salvador. The couple returned to Arkansas in August 2016, after living for nearly a year in Central America. In December, the couple announced that Jill is pregnant with their second child and that she is due in July.
"We are planning to go back [to El Salvador] very soon," Jill told the magazine. "Then we will come back [to the United States] for the birth of the baby."
According to Inquistir, the next mission trip by S.O.S. Ministries, which is the organization that sponsors the Dillards' mission trips, will leave for Central America on March 10, so it's likely that the Dillards will be part of that group.
Fans were alarmed by Jill's decision to return to a country that has been greatly affected by the Zika virus.
Last year, experts in El Salvador advised women living in the country to put off getting pregnant until 2018, in an effort to keep them from contracting the virus and having babies born with major health issues.
Last June, a study found evidence that the Zika virus could cause brain defects among babies whose mothers were infected with the virus while in their third trimester of pregnancy.
"She is pregnant. Why would you want to move where Zika virus runs rampant?" one person wrote in response to the story on the Duggar Family blog. "Isn't it harmful to the fetus and possibly a newborn? And the other diseases that could harm her unvaccinated baby. Just not safe,IMO. I wish them well but do hope they reconsider since she has two little ones to factor in."
"It's just not wise to be in a foreign country with an undiagnosed medical condition (Derick) and expecting a baby (Jill). Have and use some common sense that God gave you," another wrote.
In addition, the threat of gang violence looms. Jill and Derick have stated in the past that they have been staying in a dangerous part of El Salvador, and that they are ever-fearful that they or their son Israel could be kidnapped while they are in Central America.
"It's one thing to live in potentially dangerous parts of the world if it's just the adults. It's quite another to place a child and an unborn baby at risk as well," someone commented on the blog. "The Dillards made no bones about the risks involved with where they were acting as missionaries…I am not sure just what they are trying to prove. It's one thing to place your faith in God, but quite another to act irresponsibly in the process."
Jill and Derick have not yet commented on the negative feedback they've received since they announced their decision to return to Central America.
(Photo: TLC)