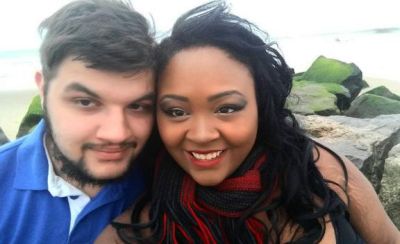 Yet another girl from the 16 and Pregnant series is about to join the "Three Kid" Club!
Jordan Howard, who starred on the show's fourth season, recently announced that she is expecting her third child with her now-husband Tyler Zeplin. According to a post Jordan made on social media, she is due to give birth this June.
"We already know the sex of our baby.," Jordan wrote. "That announcement will be known this spring or sooner."
Jordan and Tyler are already parents to son Chase (who was born in 2011) and daughter Skylar (who was born in 2014). After many years together, the couple got married in 2015.
The couple ran into some relationship trouble last year, however. In June, Jordan and Tyler announced that they were separating but…obviously that separation didn't last very long!
Jordan's episode of "16 and Pregnant" was one of the show's most memorable ever. Jordan, who's African-American, was met with a lot of opposition from her friends and family over her decision to date Tyler, who's Caucasian. Tyler's family was also unhappy about the couple dating. In the years since that episode was filmed, though, the racial tension has eased with the families.
Nearly all of the girls from "16 and Pregnant" have gone on to have additional babies since their episodes aired, and a large number of girls from the show actually have three children currently. They include Season 1's Ebony Jackson and Maci Bookout; Season 2's Lori Wickelhaus, Leah Messer (who had twins) and Jenelle Evans; Season 3's Jennifer Del Rio (who had twins); Season 4's Mackenzie Douthit and Kristina Head.
Season 4's Sarah Roberts and Season 3's Danielle Cunningham are both currently pregnant with their third child.
(Photo: Facebook)