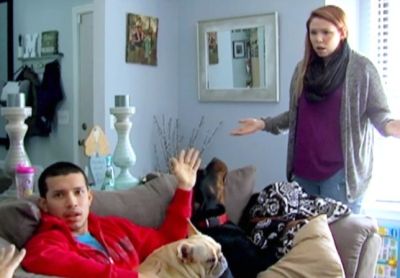 The battle between Kail Lowry and Javi Marroquin continues!
It should come as no surprise that the hits keep on coming between the Teen Mom 2 stars. The parents of three-year-old Lincoln have been battling it out on social media in recent months, but this week Javi stepped up his game and went straight to a mainstream media outlet to deliver some definite "fighting words."
"I'm disgusted when I look at her," Javi recently told Us Weekly, adding that he and Kail are "absolutely" done for good.
"I thought things were really great [between Kail and I until] a very reliable source came up to me and brought some new things to light that I didn't know about, so all of that went right out the window."
Unfortunately for us nosy fans, Javi was being cryptic, and did not reveal what those "new things" were.
Before Javi spoke to Us Weekly, he and Kail had been having some nasty spats on Twitter. Their Twitter rants have included accusations of infidelity and the blame-game when it comes to the subject of having more children.
When Javi indicated he thought the basis of their 2016 divorce was that his ex-wife did not want any more children, Kail tweeted that she just did not want additional children with Javi, and indicated that he blamed her for a prior miscarriage – an allegation Javi does not deny, but also indicates that he has apologized and thought they had moved on.
Kail tweeted that her "marriage was toxic," which was why she didn't want to have any more children with Javi.
As The Ashley previously told you, Kail and Javi taped a season of Marriage Boot Camp: Reality Stars last fall that will be airing soon. During his interview with Us Weekly, Javi said that he and Kail tried to settle their irreconcilable differences while filming the show.
"I went in there with open arms," Javi told the magazine of his 'Boot Camp' experience. "I was open to the advice from the doctors and maybe we can make this marriage work. It's easier for her to say no when you have something going on at home…you'll see."
Although Javi told Us Weekly that he had hoped that going on the show would save his marriage to Kail, The Ashley's sources tell her that the marriage was way over by the time the show was filmed, and that Javi and Kail only agreed to do the show for the money, and to try to work on their co-parenting.
Kail has yet to respond to Javi's remarks about her and their marriage.
(Photo: MTV)