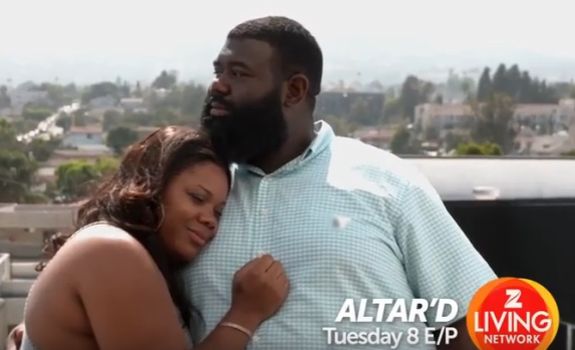 Sometimes you have to take drastic measures to achieve your goals, and the couples on Z Living's newest reality show, Altar'd, know that all too well.
On 'Altar'd,' we'll meet several engaged couples who are desperate to lose weight before their weddings, and are willing to do whatever it takes to shed the pounds, even if that means saying goodbye to their fiances for three months before the wedding. The show, which airs next on February 14 on Z Living, allows viewers to watch as the bride and groom work with fitness experts Chris Marhefka and Erin Stutland to get fit, mentally and physically, before saying "I do."
It's like The Biggest Loser and A Wedding Story had a reality TV love child!
On the next episode, we will meet Natifah and Reggie, an engaged couple who have begun to notice that their unhealthy eating habits are causing tension in their relationship.
"With a history of high blood pressure and diabetes in both of their families, they both feel that this challenge will greatly improve their relationship and have a massive impact on their overall quality of life," a press release for the episode reads.
In a sneak peek clip of the episode, we get an idea of just how poor Reggie's health actually is.
"Last time I went to the doctor, he was wondering why I didn't have a heart attack or stroke," Reggie says.
"This is so much worse than I thought it was," Fitness Expert Chris can be heard saying in the clip.
'Altar'd' airs Tuesday nights on Z Living. Watch a preview clip of Tuesday's episode below!