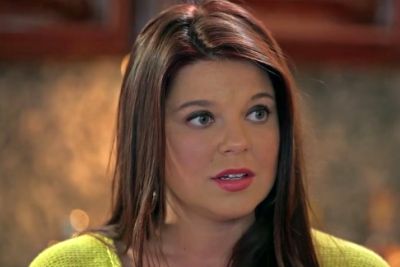 Amy Duggar is doing whatever it takes to stay in the spotlight—even lying, according to her own grandmother!
The cousin of Jill, Jessa & Co. is currently starring on Marriage Boot Camp: Reality Stars with her husband, Dillon King. On the most-recent episode, Amy revealed that she was physically and mentally abused by her father.
"He picked me up by my throat, all the way up to the ceiling," she said on the show. "My dad was like, 'Amy did you brush your teeth?' and I was like, 'Yeah daddy,'" she said. "And he was like, 'No you didn't.' And he picked me up by my throat, all the way to the ceiling. He was like, 'You will brush your teeth.'"
This isn't the only incident of abuse that Amy alleges.
"My father tried to run me over with a car," she said. "It scared me half out of my mind."
On the show, an expert was brought in to evaluate the effects of Amy's alleged abuse.
"Amy's coping mechanism is to pretend that everything is always happy in her world. It's how she blocks out the trauma she faced in her childhood," Dr. Venus Nicolini said.
Later in the episode, Amy said that she has forgiven her father for these alleged acts.
"It was a very heartfelt moment where I actually forgave that person who hurt me when I was younger," she said. "So, it was a family member. I love that person very much and we're better now. But I did need to heal from that."
But there is one member of Amy's family who isn't buying the abuse story. Amy's paternal grandmother, Lenora Jordan, told Radar Online that Amy's abuse stories are fictional.
"None of that stuff is true," the 77-year-old grandmother said. "Amy just felt like she needed to be on that show, and needed something to tell."
(Just to clarify, this is not Amy's grandmother who has appeared on 19 Kids and Counting and Counting On. That is Mary Duggar, Amy's maternal grandmother. Amy's mother Deanna is Jim Bob Duggar's sister.)
Still, there is a trail of evidence that points to Amy's father, Terry, having a violent past. In 1992, Amy's mother, Deanna, filed a restraining order against Terry claiming that he once threatened to kill her and Amy.
'Marriage Boot Camp: Reality Stars' airs Fridays on WEtv.
UPDATE! In a series of tweets on Sunday, Amy called out WEtv for doing some "crafty editing" with her story.
What the heck!!! @wetv my dad didn't try to run me over with a car! Crafty editing I was talking about somebody else!" she tweeted. "@WEtv #getitright Why would you twist that!?for more ratings!? That's not true and don't believe that! That's just so hurtful to my family and to me. I forgave my dad for the toothbrush accident. And that is it. Wow @wetv really!? Why!"