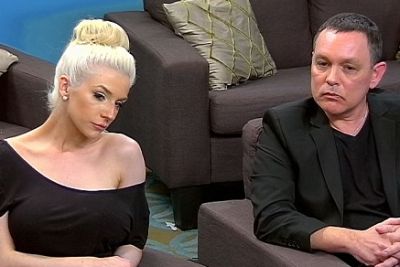 The Ashley's got to give it to Courtney Stodden and Doug Hutchinson: their relationship certainly lasted a lot longer than anyone predicted.
Unfortunately, though, Courtney has confirmed that she has been separated from her much-older husband for a few months now.
The couple– who married in 2011 when Courtney was only 16 years old and Doug was 51–has not signed divorce papers yet, though, according to Courtney.
"We are legally separated … it's only been, like, two-and-a-half months," Courtney told People. "I'm also trying to take things slow because I love him and it's really hard on him … it's extremely sensitive."
There have been rumors going around for months that the reality stars had broken up. On February 8, The Ashley spotted Courtney walking the red carpet of OK Magazine's Pre-Grammy Party without a date or her wedding ring. The next day, Courtney basically confirmed the split rumors by getting "caught" canoodling with some random dude at a Hollywood karaoke bar.
On Valentine's Day, Courtney was seen out with Beverly Hills plastic surgeon Dr. Marc Mani, who is 47 years old.
Doug and Courtney's relationship has been a roller coaster since the beginning. The pair went on VH1's Couples Therapy in 2012, and split for a period of nine months in 2013.
Last year, Courtney became pregnant with the couple's first child, but she unfortunately suffered a miscarriage. That came after Doug and Courtney appeared on Lifetime's The Mother/Daughter Experiment, where the couple fought it out with Courtney's mother Krista Keller.
"He's been my rock for me through so many things that I've been through," Courtney told Us Weekly. "It's been interesting for sure."
Now that Courtney's single, she says she's ready to mingle and make up for lost time.
"Yeah, I feel [getting married really young] affected me in ways," she told People. "And they're playing themselves out now. I feel like I really didn't get a chance to do a lot of the things a normal 16-year-old … ultimately 22-year-old girl experiences."
On the bright side, Courtney's relationship woes may produce yet another one of her musical masterpieces.
(Photo: Lifetime)