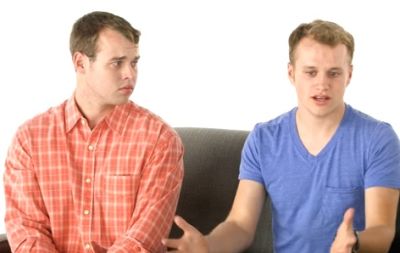 Jinger Duggar left the Duggar Family home and moved to Texas, after marrying Jeremy Vuolo in November. Jinger's absence has apparently made life harder for her brothers, Joseph and Josiah.
In a new video posted by TLC, the Counting On stars say they're worried that they'll be forced to do some of the domestic chores, now that so many of their sisters have left home.
No…seriously.
In the interview, Josiah and Joseph they tell Dani Starr that they miss having Jinger around because she (and their other now-married sisters Jill and Jessa) would always do the family's grocery shopping.
"The other day I went into the pantry and I noticed there were so many groceries missing," Josiah says. "I was like, 'What's up with this?'
"There's only so many sisters leftover in the house, so I was like, 'Oh no! That means us guys are going to have to go [grocery] shopping!'"
Currently there are only two Duggar girls over the age of 18 left at home– 27-year-old Jana and 19-year-old Joy. However, Joy is currently in a courtship, which means she may be high-tailing it out of the Duggar house (and grocery shopping duties) very soon herself.
"I was terrified," Josiah says of the moment he realized he may be forced to take over the grocery shopping. "I don't like shopping. Nobody likes shopping. Just things like that, hitting you every day."
The guys also state that they miss having Jinger and the other girls around to give them fashion tips.
Watch the full interview video below:
(Photo: TLC)