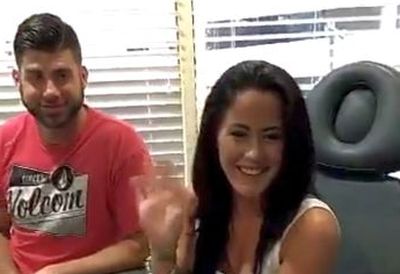 Normally, The Ashley doesn't like to follow the court cases of Jenelle Evans' soul mates (because, let's be honest, that's basically a full-time job in itself). However, The Ashley is making an exception here, since many Roundupers have been asking The Ashley for more information on this particular case. There's been quite the surprising turn…
As many faithful Teen Mom 2 fans know, Jenelle's fiance, David Eason, has been in hot water with the North Carolina court system since March 2016, when he approached his young son, Kaden, in a grocery store, despite the fact that Kaden's mother, Olivia Leedham, had a no-contact order filed against David. He was arrested for violating the no-contact order, and in October was sentenced to 60 days in jail for the crime, but has yet to serve the time behind bars.
The Ashley has received some surprising information regarding the case. The Ashley's sources tells her that the reason that David has not been thrown in the slammer yet is that his baby-mama Olivia has had a massive change of heart, and is trying to get the charges against David dropped!
A source close to Olivia tells The Ashley the following:
"It's been crazy. David sued Olivia for visitation of Kaden a while back, and he and Olivia had mediation and were able to work out something in terms of a custody schedule," the source tells The Ashley. "They are working toward having joint custody of Kaden."
There is currently another court date pending, and the source tells The Ashley that Olivia and her family are trying to get it dismissed. (So far Olivia has not been successful in doing that.)
"She was able to get the restraining order she had against David for Kaden dropped though," the source said. "The one Olivia herself has against David still stands, but just for the time being. She's trying to get it dropped too."
The source is not sure what brought on Olivia's change of heart toward David, but did say that it's likely that Kaden will be added to Jenelle and David's House 'o' Children as soon as possible. (Currently, Jenelle has two kids, Jace and Kaiser, and David has a daughter, Maryssa. Jenelle and David also recently added daughter Ensley to their ever-expanding brood.)
"The whole thing is really, super weird," the source said. "Even Olivia's family is on board with the joint custody."
This unfortunately means that David will probably not be delivering another Class A mugshot like this one in the near future. (At least, not for the no-contact violation case, anyway.) But, it does mean that he can scratch "Get son back" off of his, um, "bucket list."
Stay tuned!