Kail Lowry was expecting a mixed reaction when she announced yesterday (via The Ashley) that she is currently pregnant with her third child, and she definitely got it! Teen Mom 2 fans weren't the only ones offering their thoughts on the pregnancy, though; Kail's ex-husband Javi Marroquin, as well as some of her 'Teen Mom' cast mates, used social media to share their feelings on the topic.
While Kail's pals Catelynn Lowell and Chelsea Houska each posted congratulations for Kail on Twitter, it was the posts made by Javi and Kail's 'Teen Mom 2' co-star (and nemesis) Jenelle Evans that were the most interesting.
Jenelle posted about Kail's pregnancy…before Kail announced it. In a now-deleted tweet, Jenelle decided to break Kail's pregnancy news herself on Twitter.
"Congrats on your pregnancy girl!" Jenelle tweeted. "Heard the news from the crew. Super happy for you. Three is hard but so worth it."
Jenelle later claimed that she thought that Kail had already announced the pregnancy and took a jab at Kail for "hiding" her pregnancy. (Isn't it ironic…dontcha think?)
"I thought it was confirmed all day by everyone," Jenelle tweeted. "My bad. I just got done filming and I heard the news. Didn't know she was hiding it."  (Jenelle later deleted both tweets.)
Still, the most juicy responses came from Kail's ex-husband, Javi. In a series of now-deleted tweets, Javi came out swinging after the pregnancy was confirmed. In her pregnancy blog post, Kail had mentioned that people close to her had "sold her out" by revealing her pregnancy to the tabloids before she was ready. Javi apparently thought that statement was aimed at him.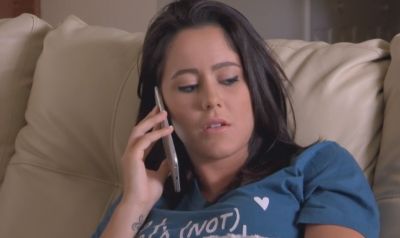 "Word is you're saying I sold this story for money," Javi tweeted seemingly in response to Kail's post. "If I needed money I would've sold this weeks ago when I found out by your friend."
Javi later posted a screenshot of a conversation he was having with someone about Kail's pregnancy being blabbed. In the conversation, Javi mentions that "literally everyone" blabbed about Kail's pregnancy.
He later responded to fans' who were consoling him via Twitter.
"I'm not upset," Javi wrote. "I'm upset for the boys…"
He later posted a photo of Lincoln, the three-year-old son he shares with Kail, along with the caption, "My son, follow your dreams. I'll pick up the pieces for you. Love, your daddy."
Kail's other baby-daddy, Jo Rivera and his fiance Vee Torres have yet to say anything publicly about Kail's pregnancy announcement.
(Photos: MTV)