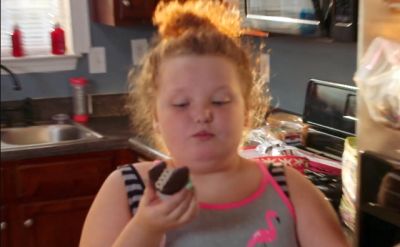 The first episode of Mama June: From Not to Hot has been released online by WEtv ahead of tonight's premiere, and, while the preview shows off Mama June Shannon's jaw-dropping physical transformation, the scenes involving June's daughter Alana "Honey Boo Boo" Thompson, proved to be the most shocking.
In one disturbing scene, eleven-year-old Alana, who has struggled with her own weight for years, is seen packing her lunch for school.
First, she dumps a box of Hostess cupcakes into her lunchbox, followed by a full bag of cheese balls, a container of ice cream and Nutella, and a few cans of various slop.
"I love food!" she proclaims before her mother tells her to go change out of a tank top that is obviously too small for her.
June eventually makes Alana's lunch much healthier…by taking out the ice cream.
In another scene, Alana refuses to do a workout tape with her mother.
"I'm not working out!" she tells her mom. "I don't do pageants anymore!"
When the preview was posted to WEtv's Facebook page, some fans were outraged that June allowed Alana to eat so poorly.
"How sad," one write. "Her poor baby girl is eating whatever she wants gaining unhealthy weight while her momma is worried about getting sexy to date?!? I'm sorry but NO."
"Great that June is taking control of her weight but the kids need it too," another fan wrote. "They will have health issues down the road if they stay on this course of bad eating."
Back in 2015, June and Alana appeared on The Doctors to discuss Alana's weight. Mama June later slammed the show and its producers for trying to make her and her daughter look bad.
'Mama June: From Hot to Not' airs tonight on WEtv.
(Photo: WEtv)