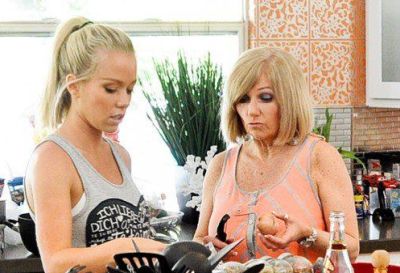 Kendra Wilkinson is finally getting her chance to duke it out with her mother Patti on TV!
Life & Style is reporting that the Kendra On Top star, who has famously been feuding with her mother for years, will be getting a new reality show.
The magazine's source says that Kendra has decided to put her differences with her mother aside– and/or cash in on them. The show will, of course, air on WeTV, which is the same network that airs 'Kendra On Top.'
"It's basically a therapy show that will focus on Kendra and her mom working on their relationship," a source told the magazine. "Kendra was OK never speaking to Patti again but she agreed to do the show, and it's been helping them out a lot."
The show will presumably filter through the long-time mother/daughter feud, starting at the beginning when Kendra hung up her bunny ears and left the Playboy Mansion to marry football star, Hank Baskett. Patti enjoyed the lifestyle Kendra's Playboy career provided her, and she was upset when that time ended.
Since then, Kendra and Patti have continued to throw shade at each other publicly. Kendra even claims that Patti was the one selling stories to the tabloids about Hank's alleged affair several years ago.
"Right after I thought my husband cheated on me, you sell my tears to the damn tabloids. You love the fame. You love this attention," Kendra told Patti on an episode of Marriage Bootcamp: Reality Stars. "The Devil has eaten your soul!"
Things got even worse between the two during the most-recent season of 'Kendra On Top.' Kendra claims that Patti was threatening to write a tell-all book about her.
"You know about the threat of my mom's tell-all book that we were talking about the other day? Well everyone keeps bombarding me about this so I can't have this happen to me," she said on her reality show. "I have a family to protect."
WEtv has yet to confirm the new show starring Kendra, and no premiere date has been released yet.
(Photo: WEtv)