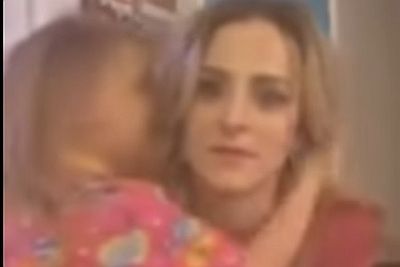 Teen Mom 2 fans got a big shock last night when Leah Messer was seemingly outed for being pregnant– by her own four-year-old daughter!
Or was she?
Leah's idea to do a fun Facebook Live video stream last night with her daughter Addie seemed to blow up in her face when Addie loudly whispered to her mother to tell the viewers about "the baby in your tummy."
Leah looked surprised, and instantly began to struggle with the camera. She later deleted the Facebook video. To add to the Baby Mania, sonogram photos were seen hanging on Leah's refrigerator on a recent episode of 'Teen Mom 2.'
Since then, the show's fans have been buzzing that Leah could possibly be pregnant with her fourth child. (After all, Baby Mania seems to have spread throughout the 'Teen Mom 2' cast. Kail Lowry recently announced a pregnancy, and both of Leah's other 'Teen Mom 2' cast mates, Chelsea Houska and Jenelle Evans, recently had babies.)
The day after the video incident, Leah told fans on Twitter that she was not pregnant.
"I am definitely not [pregnant]," Leah wrote. "I have the IUD."
"Kids say the craziest things," Leah tweeted to another fan. "Side note: you have to be sexually active to get pregnant."
Is Leah telling the truth? (As we know, the girls of 'Teen Mom' are famous for lying about being pregnant!) The Ashley checked in with several of her sources to find out. According to each one of them, Leah is not pregnant.
"She has never mentioned anything to the crew, and there have been no indications at all that she's expecting," one source tells The Ashley. "She's really, really thin right now, too. There is absolutely not tummy whatsoever." (For reference, this photo was taken two weeks ago when Leah was in Southern California to film one of the 'Teen Mom 2' After Shows.)
Another source says that Leah is flat-out denying it when asked.
"She's not pregnant," another source tells The Ashley.
On Wednesday afternoon, Leah posted about the incident on her private Facebook page: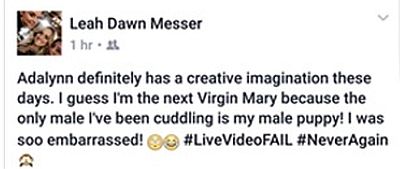 As for the sonograms, that scene was filmed at the time when Leah's sister Victoria was pregnant (and possibly living with Leah). There's a great chance that those sonograms were actually of Victoria's baby.
The Ashley will update this story if more information becomes available. Watch the video in question below: