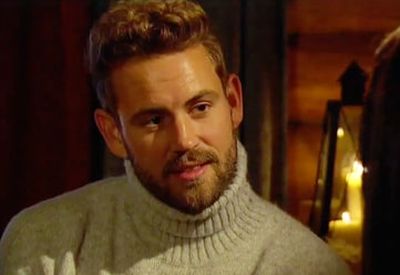 What the hell does Nick Viall do for a living? Well, currently nothing, but the Bachelor star says he's preparing to launch a new business.
Nick, who was questioned extensively about his job (or lack thereof) by the parents of his potential fiances during his Hometown Dates, recently launched the website for his men's grooming product brand, The Polished Gent.
"Since my mid-20s I have put more time than I would like to admit into keeping a youthful appearance," Nick, who's 36, wrote on the brand's homepage. "Most of that time was spent just buying random products, hoping some of them might actually work! Sadly that method resulted in a huge amount of time and money wasted. A handful of products really stood out over the years and I am excited to share them with you."
Although there is currently no merchandise for sale on the website, People reveals that Nick's line will include men's hair and facial products. No launch date is available, but the magazine reports that Nick will discuss his brand during the upcoming "Women Tell All" episode of 'The Bachelor.'
It's been a while since Nick has had an actual job. The former software salesman headed to Los Angeles after appearing on Kaitlyn Bristowe's season of The Bachelorette to try to become a male model. After he got the 'Bachelor' gig, though, he focused his efforts on the show and his new business venture.
"Before 'The Bachelor,' I was out in L.A. kind of dabbling in modeling a little bit," Nick told Glamour. "A few months before I was asked to be the Bachelor, I actually started a small business with a couple partners. It's online and for men's grooming products, so I've been focusing a lot of time on that."
Nick will also be focusing on furthering his fame. Although he's already appeared on 'The Bachelor,' 'The Bachelorette' and 'Bachelor in Paradise,' Nick will soon be foxtrotting his way to more reality TV fame when he joins the cast of Dancing with the Stars on March 20.
(Photo: ABC)