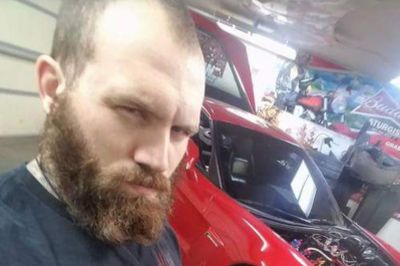 Adam Lind was absent this weekend from yet another big event in his daughter Aubree's life, and according to The Ashley's sources, the Teen Mom 2 dad has been a no-show for all of the Season 8 filming!
Over the weekend, Aubree– who is Adam's daughter with Chelsea Houska— was scheduled to attend her school's annual father/daughter dance. (As 'Teen Mom 2' viewers remember, Adam didn't show up to take Aubree to the dance last year, so she went with her stepdad Cole DeBoer.) Chelsea posted a photo on Friday of a smiling Aubree holding Cole's hand, along with the caption, "Off to the dance…"
Since Adam was not in the picture, fans wondered if perhaps Adam met up with Aubree and Cole at the dance, but The Ashley's sources tell her, unfortunately, that was not the case.
"Chelsea let Adam know about the dance over a week ago and he never responded to her," one source tells The Ashley. "She never heard from him, and he obviously didn't attend the dance with Aubree."
The source added that Aubree wasn't even upset about her father's absence this time around.
"She didn't seem bothered by it because she loves Cole so much," the source said. "She was just kind of 'whatever' about Adam not being there. Cole was fantastic, and he was so happy to be there with Aubree."
When the footage of last year's missed dance aired last year, Adam claimed that the scene was edited to make him look bad, but another source tells The Ashley that there's no way Adam can make that claim this year.
"He has been given so many chances to film while doing positive things with his kids, but he just wastes everyone's time and treats the crew like crap," the source tells The Ashley.
In fact, The Ashley can confirm that Adam has yet to film a single minute of footage for the upcoming eighth season of the show.
"He hasn't been filmed since the time at Aubree's softball game where he told the producer to get out of his face," the source reveals. "The crew still contacts him to let him know every time they are filming, but he has yet to ever respond to any of them."
Adam has been quite vocal about wanting to quit 'Teen Mom 2,' and it appears he may be making good on his threats. However, a production source tells The Ashley that Adam is not paid unless he appears in an episode.
"He only gets paid when he films," the source says. "He doesn't make any money unless he shows up in an episode."
That means that Adam has made no money from MTV for Season 8 to date. (That, of course, can change at any time, though.)
According to a recent Radar Online article, Adam wants to live a "normal" life without MTV "bad-mouthing" him all the time on the show. That 'privacy' will come at a price, however, as he is now reportedly working a normal job that certainly doesn't pay anywhere near the hundreds of thousands of dollars a year Adam is used to receiving from MTV.
"He is living the normal quiet life. He's working on a friend's car lot doing mechanic work," an insider told Radar.
The same source told Radar that Adam has deleted all of his social media accounts, due to bullying. However, that is not true. Adam has an active Facebook account. In fact, while Aubree was at the father/daughter dance with Cole, Adam changed his Facebook profile photo– to a picture of his other daughter, Paislee.
(Photo: Snapchat)