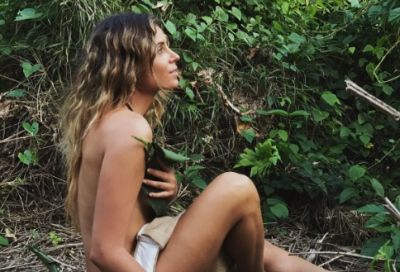 A Naked and Afraid contestant had a terrifying encounter with a swarm of sand flies, causing her to bail out of the show early and seek medical attention.
Anastasia Ashley, a professional surfer by trade, was recently filming an episode of the Discovery Channel show in Belize when she was reportedly attacked by thousands of sand flies, leaving her with so many bites that she had to quit the show.
Dail Mail Online reports that Anastasia was trying to make it "naked and afraid" for 14 days alongside YouTuber Cory Williams, but only ended up lasting six days.
"According to producers, she was attacked by sand flies, being bitten for 12 hours straight from 6pm to 6am on the sixth day," the site reports.
"The flies had hatched and latched on to her," Anastasia's agent told Daily Mail Online.
In a self-made video (that can be watched below), Anastasia explains to the show's viewers how awful her experience has been.
"I am rashed all over my body," she says, as she shows off some of the bites on her arm. "I don't know if I can do another night out here. The days are easy but the nights are so hard."
Sand flies are known to spread leishmaniasis, an infectious disease. One of the three main types of leishmaniasis can damage internal organs and be potentially fatal if left untreated. All three types of leishmaniasis cause large ulcers/open sores that can leave permanent scars on the skin.
"Being attacked from a swarm of freshly hatched bugs that decided I was their host while naked in the jungle, with nowhere to hide is really the worst experience of my life," Anastasia told Entertainment Weekly. "It was pure torture. We wanted to jump in the fire to try to end the itching. Luckily we didn't."
'Naked and Afraid' Season 7 premiered last night, and Anastasia and Corey's episode will air sometime in the near future.
If you'd like to see creepy photos of Anastasia's bites, click here (and then prepare to feel itchy for the rest of the night.)
Watch Anastasia discuss her experience on 'Naked and Afraid' below:
(Photo: Twitter)